Tangail Saris
Bold colours the trend for this Eid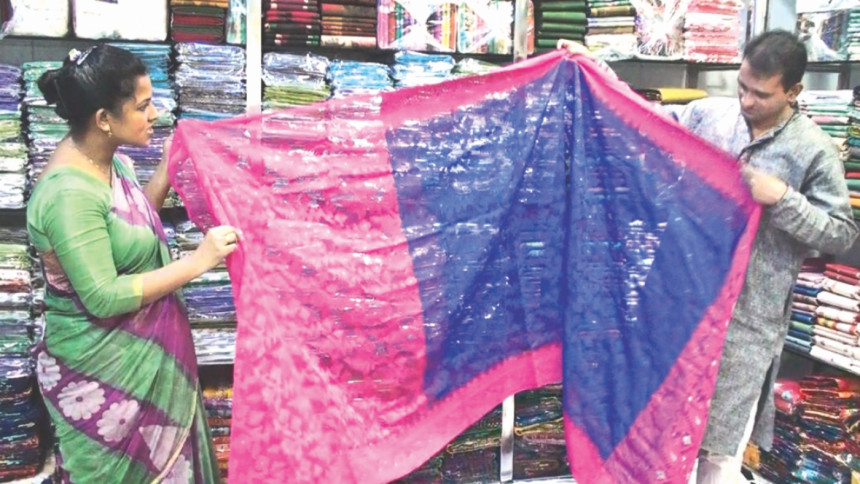 With Eid fast approaching, Tangail's sari weavers are working at full capacity. Deep and bright colours are in vogue this season, often styled with chumki, applique or other embroidery features. Cotton and half-silk saris adorned with golden-thread jori stitching and alpona motifs along the sari's decorative end, the anchal, and along the sari's borders, are in demand. Block prints are also experiencing a revival.
"I buy Tangail saris every Eid," says Tangail teacher Ashrafunnessa Khan, "not only for myself but for my daughters and daughters-in-law. The traditional product in its various qualities and price ranges attracts me."
Red, magenta, ash, black, reddish-yellow, orange, violet, light blue, saffron and green are all colours making a grand appearance in this year's range.
"For this Eid we have jamdani and silk saris ranging in price from Tk 16,000 to Tk 30,000 that have won the hearts of women buyers," says Prodip Sarkar, a salesman of Jageswar & Co at Pathrail in Delduar upazila. "We have cotton saris selling from Tk 1,600 to Tk 2,500 that are also in high demand."
Producing saris worth from Tk 400 up to perhaps Tk 40,000, Tangail's weavers from across Delduar upazila, with many also based in villages of Tangail sadar and Kalihati upazilas, as well as some in Gopalpur, Sakhipur, Nagarpur and Bhuapur upazilas, cater to all budgets.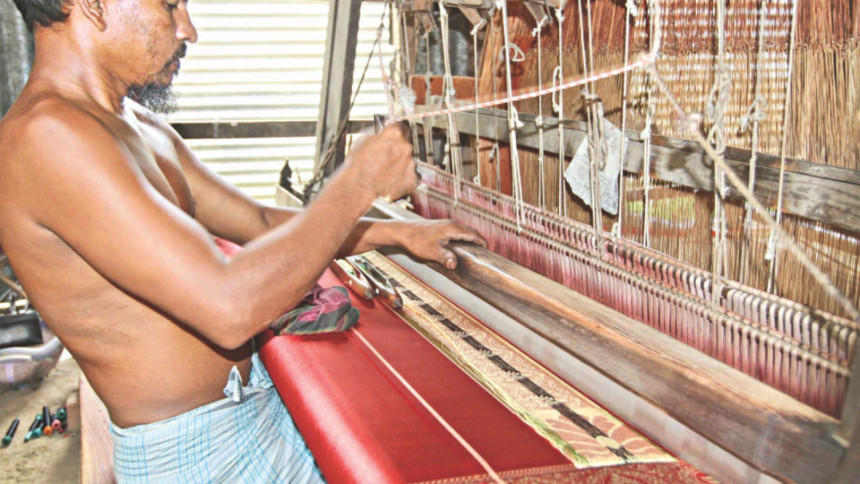 With wholesalers converging on Tangail's major sari markets at Karatia, Bazitpur, Pathrail, Balla and Rampur, sales are brisk as up to 50,000 saris are purchased each week, according to local traders, for both domestic sale and export.
For an industry where production has been interrupted by load shedding and union parishad elections it's a welcome upturn. "After enduring months of slow business," says Raghunath Basak, the president of the Tangail traders' association, "both in sales quantity and prices sari producers are doing much better ahead of Eid."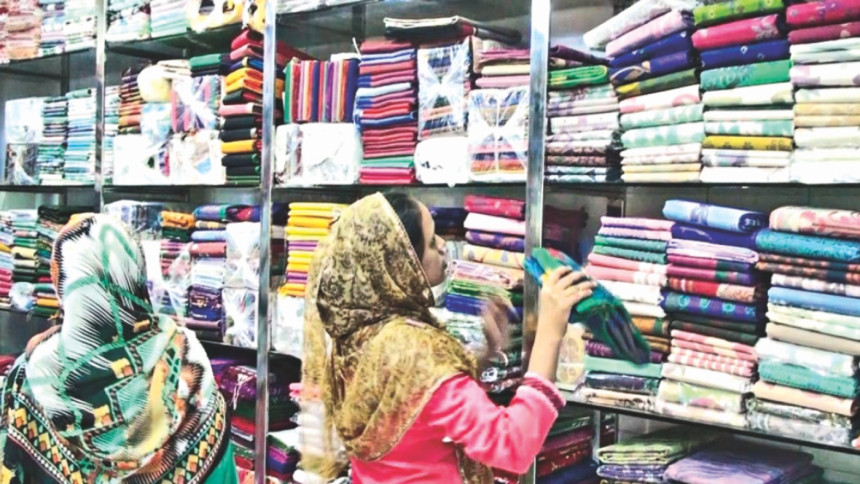 Diversity of style and a willingness to keep up with current trends have both favoured Tangail's extensive sari industry.
According to a local weaver's association the industry engages 2 lakhs workers, now working tirelessly to meet demand. "I have been working day and night on instruction from our handloom owner," says handloom operator Rezaul Islam from Pathrail.
"Though owners and traders take extra profit at the approach of Eid, we workers are yet to receive our Eid bonuses," he adds.
According to handloom owners in the area however, factory workers are being properly paid, with some newer recruits not yet entitled to a festival bonus.