Bangladesh, UAE sign deal for hiring workers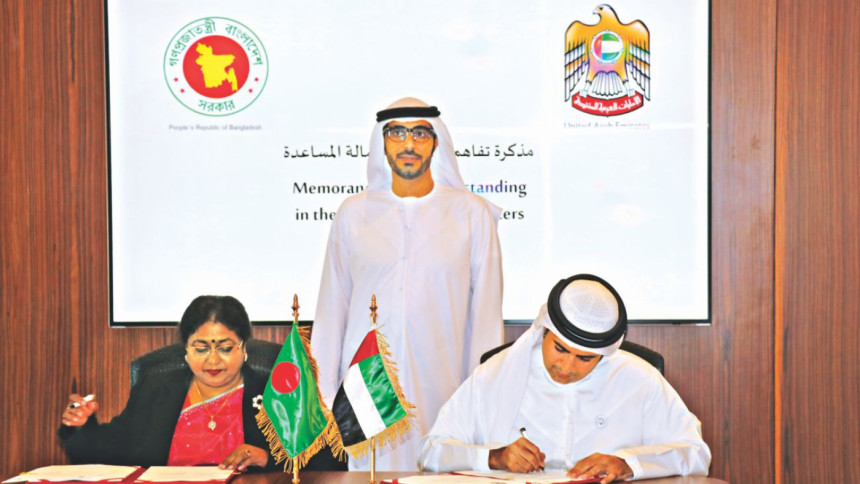 The United Arab Emirates yesterday lifted a six-year ban on the recruitment of Bangladeshi workers.
"We signed a Memorandum of Understanding with UAE in this regard today [yesterday]. Bangladeshi jobseekers can now get jobs in the Emirates. Initially, private sector will recruit them and eventually public sector will also follow," Nomita Halder, secretary of Bangladesh's expatriates' welfare ministry, said.
Halder and UAE's Under-Secretary of Ministry of Human Resources and Emiratisation Saif Ahmed Al Suwaidi signed the MoU in Dubai.
Under the agreement, the UAE will recruit Bangladeshi citizens in 19 categories, said a press release.
According to WAM, the state news agency of the Emirates, the categories include labourer, sailor, watchman, shepherd, falconer, housekeeper, cook, nanny, farmer, gardener, private trainer, private tutor, farm supervisor and private driver.
Under the MoU, the employment contract for Bangladeshi workers should include job description, salary, and other benefits like food, accommodation and transport. The salary will be paid following the UAE's Wages Protection System.
Migrants going to the UAE, one of the major job destinations in the Middle East for Bangladeshis, will be better protected under the law of the country, Namita told The Daily Star over the phone from Dubai.
Nasser bin Thani Juma Al Hamli, UAE Minister of Human Resources and Emiratisation, who was present while signing of the MoU, said the MoU "comes within the framework of the Ministry of Human Resources and Emiratisation to open multiple markets to families and employers in the country."
Khaleej Times reported the recruitment office in the UAE would send offer letters along with all the terms of the employment contract to job seekers in Bangladesh.
Both countries agreed to cooperate in documenting the costs related to recruitment and employment of Bangladeshi workers.
The countries would also cooperate in raising awareness among workers about hiring guidelines before and after their arrival to the UAE, it reported.
The UAE had imposed a ban on recruitment of Bangladeshi workers in 2012 without explaining the reasons.
Officials and private recruiters said the ban was a result of malpractices in the labour recruitment sector by brokers and agents.