Assassination Attempt on Hasina: Ten Huji men get death by shooting
Another given life, 3 others 14yrs in jail for planting bomb in Kotalipara in 2000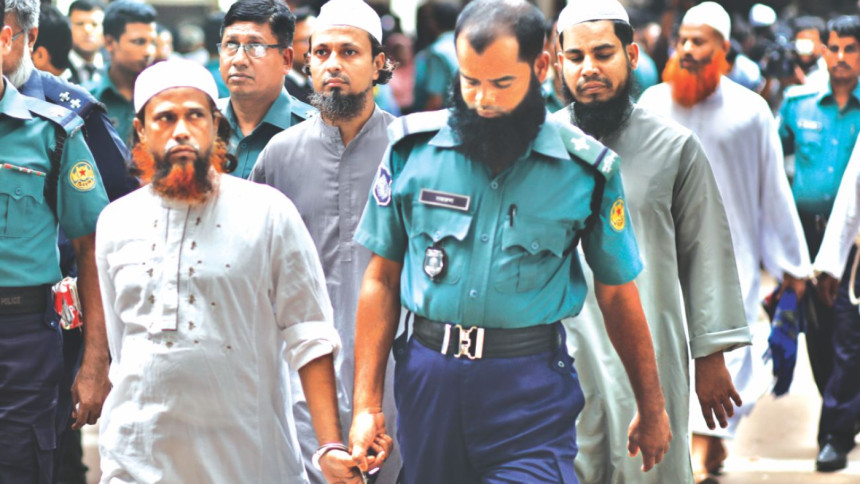 Ten leaders and activists of Harkatul Jihad al Islami were awarded death penalty yesterday for attempting to assassinate Prime Minister Sheikh Hasina by planting a bomb weighing 76kg in Gopalganj's Kotalipara in July 2000.
The convicts will be able to appeal to the High Court within 30 days.
Judge Mamtaz Begum of the Speedy Trial Tribunal-2 in Dhaka handed down the sentence in presence of the convicts in the courtroom.
Subject to HC confirmation, the convicts may be executed by shooting, the judge said in the verdict of the case filed under Special Powers Act.
According to section 34A of the act, a person sentenced to death may be executed by hanging him or shooting in a prescribed manner.
The country's courts usually orders death row convicts be hung. In 1997, a lower court ordered 12 convicts in Bangabandhu assassination case be executed by shooting. But the high court later ordered them to be hung.
The death row convicts are Wasim Akter alias Tarek, Rashed alias Abul Kalam, Yusuf Alias Moshab Morol, Sheikh Farid alias Maulana Shawkat Osman, Hafej Zahangir Alam Badar, Maulana Abu Bakar alias Hafej Selim Howlader, Hafej Maulana Yahia, Mufti Shafiqur Rahman, Mufti Abdul Hye and Maulana Abdur Rauf alias Abdur Razzaque.
Besides, Mehedi Hasan alias Abdur Wadud was sentenced to life in prison and Anisul Islam alias Anis, Nohibullah alias Mohidur Rahman and Sarwar Hossain Mia to 14 years in prison.
Of the accused, 13 are in jail while 11 are on the run. The court acquitted 10 others, as charges brought against them were not proven.
Soon after the judgment, Dhaka District Public Prosecutor Khondaker Abdul Mannan said he was not fully satisfied as ten accused were acquitted.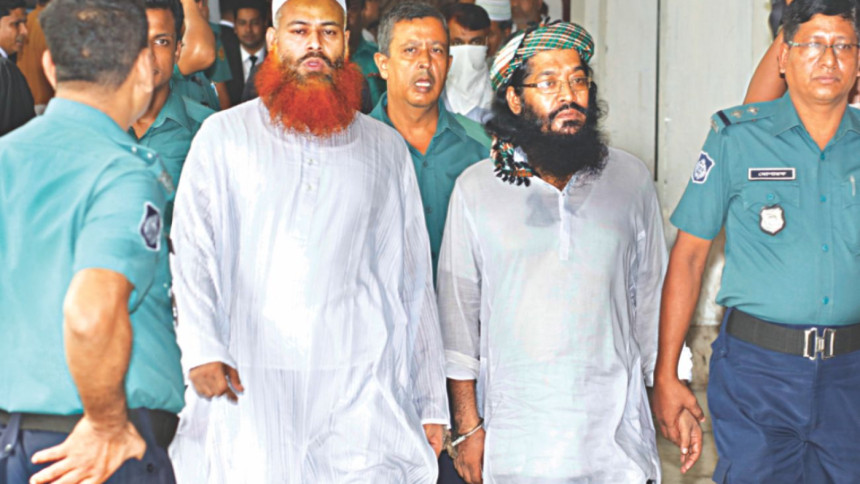 Huji leader Mufti Abdul Hannan was found guilty. But he was acquitted as he was executed on April 12, 2017 for killing three people and injuring dozen others including a former British high commissioner to Bangladesh in Sylhet .
Yesterday's verdict was based on confessional statements of Mufti Hannan and four other accused, circumstantial evidences, reports by bomb disposal experts and statements of 63 witnesses. 
The judge observed that the convicts' main object was to assassinate Sheikh Hasina as they believed she was against Islam. But the attempt was foiled.
Citing a statement made by a major general before the court, who was a bomb disposal expert, the judge said a radius of about one kilometer would be completely destroyed if the bombs exploded.
Mufti Hannan was the planner while several others assisted him, the judge said adding that Wasim, Mehedi and Rashed possessed the bomb making materials, explosives and planted the bombs at the place. 
The 76kg bomb was found at Sheikh Lutfor Rahman Ideal College in Kotalipara upazila on July 21, 2000. Sheikh Hasina was supposed to address a rally there the next day.
Another bomb weighing 40kg was found in front of a shop adjacent to the venue.
Sub-Inspector Nur Hossain of Kotalipara Police Station filed a case under the Explosive Substances Act following the incident.
CID submitted the charge sheet against Mufti Hannan and 24 others on April 8, 2001, showing 83 people as prosecution witnesses.
Gopalganj District and Sessions Judge's Court framed charges against the accused on July 2 the same year.
The Gopalganj court recorded statements of 40 prosecution witnesses, including complainant of the case. The case was then shifted to the Speedy Trial Tribunal for quick disposal in August 2010.
In another case filed with Gopalgonj Police Station, the same tribunal sentenced nine of the convicts to 20 years rigorous imprisonment for possessing bomb-making materials and explosives and planting the bombs at the place of occurrence.