Army gets first female trainee pilots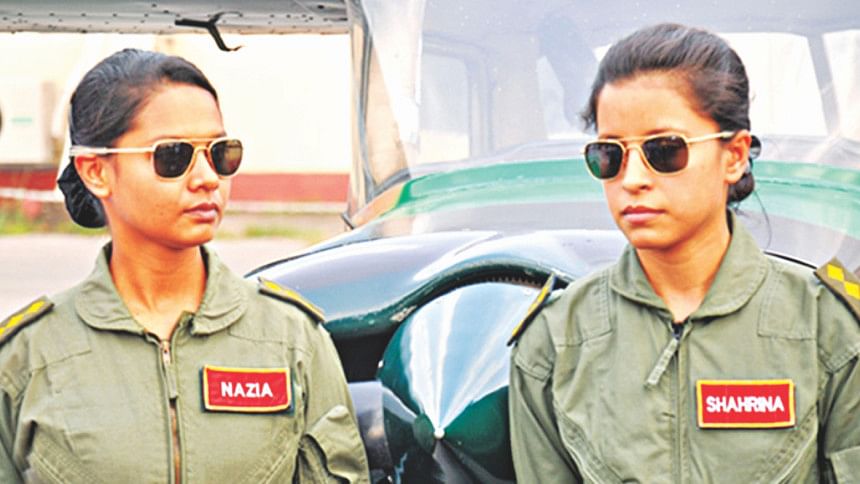 Bangladesh Army for the first time has enrolled two female officers for its aviation basic course.
They successfully conducted solo and dual flying modules as trainee pilots in the capital's Tejgaon old airport runway yesterday.
They are Captain Nazia Nusrat Hossain and Captain Shahrina Bintea Anwar. They are the first women trainee pilots of Bangladesh Army since Army Aviation Flight was raised on January 1 in 1978 as an air arm of the force.
The female officers conducted yesterday's solo and joint flights by army's Cessna 152 Aeropac training aircraft.
On successful completion of their flights at Army Aviation Group at Tejgaon, Lt Col Shahriar, officer-in-charge of Army Aviation Basic Course, said initially they were worried whether the quality of training and output of the two female officers would match that of a skilled male pilot.
"But after their performances we are now very confident that there is no need to think separately about male and female officers. We need more pilots. So we will recruit more women pilots as per procedures," he said.
He hoped that on completion of 120-hours' training, the female officers will come out as full-fledged pilots. "They will go to various places across the country flying aircraft or helicopter on completion of their course," he added.
Talking to reporters, Captain Nazia said she joined Bangladesh Army as she had cherished a dream to take up the challenge from her childhood.
She said the moment when she first took off for 'solo flying' was really thrilling. "It seemed to me that I was alone in the sky as nobody was beside me…I can go anywhere like a bird even!" she added.
She thanked her family members, colleagues and instructors who have been inspiring her.
Captain Shahrina said as a female officer, she did not consider herself separately, since she hadn't faced any extra difficulty.
She termed being an army pilot a challenging job, completely different from other professions.
Captain Nazia was commissioned in Bangladesh Army in December 2009 in the corps of engineers and joined Army Aviation Basic Course-9 on November 16 in 2014. She completed her first solo flying successfully on June 18 this year.
 Captain Shahrina was also commissioned in the army in December 2009 in the Ordnance corps and joined the same course on November 16, 2014. She completed her first solo flying successfully on June 30 this year.