Abduction bid by fake DB men foiled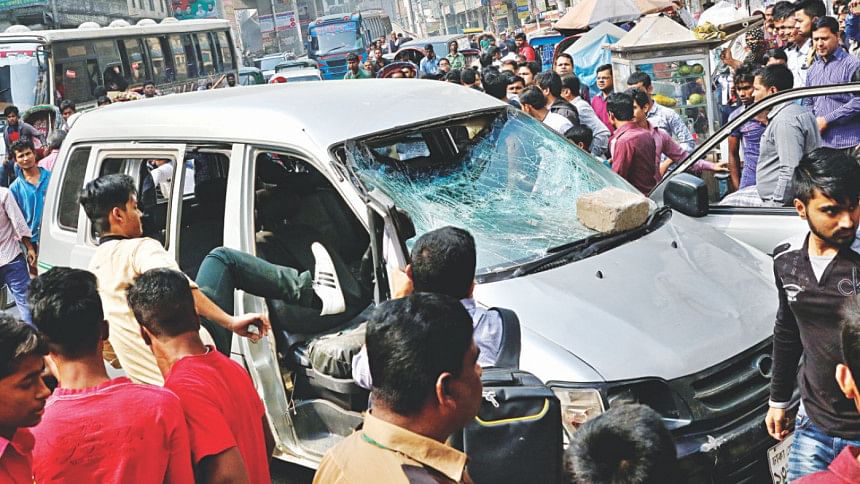 A crowd yesterday foiled an attempted abduction by four people who identified themselves as detectives and tried to whisk a man in a microbus at Moghbazar in the capital.
The criminals equipped with handcuffs and a walkie-talkie forced a man into the vehicle around 10:30am near Moghbazar intersection, soon after he had come out of a bank withdrawing around Tk 7 lakh, police said, quoting witnesses.
As the victim cried for help and started kicking on the window glasses of the vehicle in a desperate effort to get free, locals started chasing the microbus, which got stuck in traffic several hundred metres away.   
All the four criminals managed to flee before the locals rescued the victim and smashed the microbus with BRTA registration number -- Dhaka Metro Cha--139551.
Law enforcers also could not identify the abductors and the owner of the vehicle immediately. "We will try to find out the owner taking information from the BRTA," said Maruf Hossain Sorder, deputy commissioner (Ramna division) of police.
Some documents, handcuffs and the walkie-talkie were recovered from the microbus, said police, adding that the criminals impersonating members of Detective Branch (DB) of police were abducting the victim. 
"It seemed like a scene from a movie. Some people were whisking a man who kept on shouting asking for help," said Motaleb Hossain, a witness who is a roadside fruit vendor.
The way the man was picked up resembles many mugging incidents carried out by criminals posing as detectives and in some cases by law enforcers themselves.
An assistant sub-inspector of police and one of his accomplices were caught red-handed while trying to "mug" a trader in Dhaka's Khamarbari area on October 17 last year.
On November 10 last year, some policemen led by a sub-inspector of Dakkhin Khan Police Station took away Tk 40,000 from one Alauddin while searching his body.
The SI was forced to return Alauddin the money after the latter filed a written complaint with the deputy commissioner of Uttara Zone of DMP.
In Brahmanbaria, two policemen and a woman were arrested on November 21 last year for their alleged involvement in the kidnapping of one Zakir Hossain Bhuiyan of Dewra village in Sarail and realising ransom for his release.