9 zebras seized in Jessore
Meant for smuggling into India, police say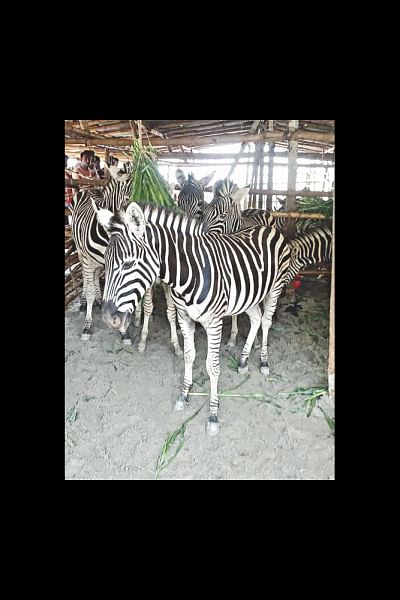 DB police recovered nine zebras from a makeshift cattle shed near the border in Jessore's Sharsha upazila yesterday.
The African zebras, worth around Tk one crore, was brought into the country for smuggling them into India, said the law enforcers.
  Acting on a tip-off, a team of Detective Branch of police raided Satmail Bazar area and found 10 zebras in the cattle shed owned by one Nur Hossain Tutu, said Md Maniruzzaman, officer-in-charge of DB police in the district.
  One of the animals was dead.
Locals first noticed the zebras tied to bamboo poles in the shed. Parts of large wooden boxes were found scattered there. Police believe the animals were taken there in those boxes, the OC said.
No one was arrested over the incident. Asked, the police officer said the cattle shed had no boundaries. So, anyone could bring the zebras there.
Salauddin Shikder, additional superintendent of police in Jessore, said the zebras were kept at the police lines. Those would be handed over to the forest department soon.
On November 13 last year, police recovered two lions and two tiger cubs from a SUV (sport utility vehicle) in Chansra intersection area on the outskirts of Jessore town. Two traffickers were arrested in connection with the matter.