2-headed lizard!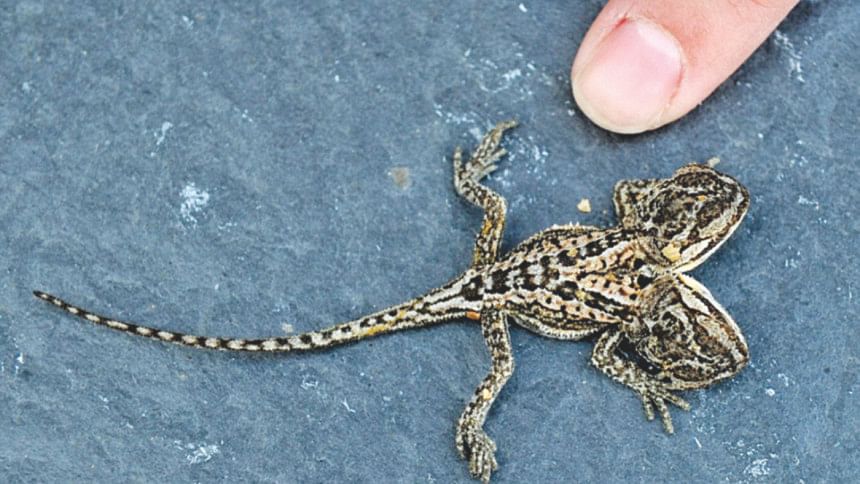 It looks more like something from the TV series Game of Thrones, only this two headed dragon is just a couple of inches long.
The rare two-headed lizard hatched from a clutch of eggs being incubated by a reptile breeder in Birkenhead in the Wirral, Merseyside in the UK.
The tiny leatherback bearded dragon has two separate heads but shares the same body, legs and tail.
Although rare, the condition, a form of polycephaly, most commonly occurs in reptiles – particularly in snakes - and is thought to be the source for mythological monsters.
The bearded dragon, which has been named Olaf after the snowman character in Disney's Frozen, is thought to be one of only four bearded dragons known to have hatched with two heads in the world.
Stephan Evans, 34, who has been breeding bearded dragon lizards for 17 years, discovered the two headed creature on Thursday while checking a clutch of eggs.
He said originally he thought there were two lizards emerging from one egg when he noticed the heads begin to poke out from the shell.
He said: 'I'd checked the incubator, we'd seen two heads and assumed they were twins, which can sometimes happen.
'I've looked online and I think there's only ever been three or four cases of bearded dragons being born with two heads.
'It's certainly not common and I don't think any of the other babies born from the clutch of eggs will be born with two heads.
'Other than the fact it has two heads it seems to be healthy and strong - it hatched on its own and that is a good sign. The two heads move independently and it does move about normally.'
Mr Evans and his wife Jodie keep nearly 50 bearded dragons and specialise in breeding lizards with rare colours and unusual patterns.
He said they will be keeping the two-headed lizard, whose sex will not be known for another six weeks, in a separate vivarium to its siblings and will be fed a diet of crickets, mealworms and salad leaves.
However, animals with polycephalys rarely survive for long. For example, two headed snakes usually die after only a few months.
It is not clear why polycephaly may occur but there has been some speculation that inbreeding can make it more likely.
Mr Evans said: 'I posted a picture on Facebook saying that they were twins - but I couldn't believe it when I noticed the two heads shared the same body.
'My friends and family have all been sharing it, I think everyone is shocked. It's my birthday tomorrow and it might have been an early birthday present.
'I've already bought a lottery ticket because my luck must be in.'