16th Amendment: SCBA criticises govt for filing review petition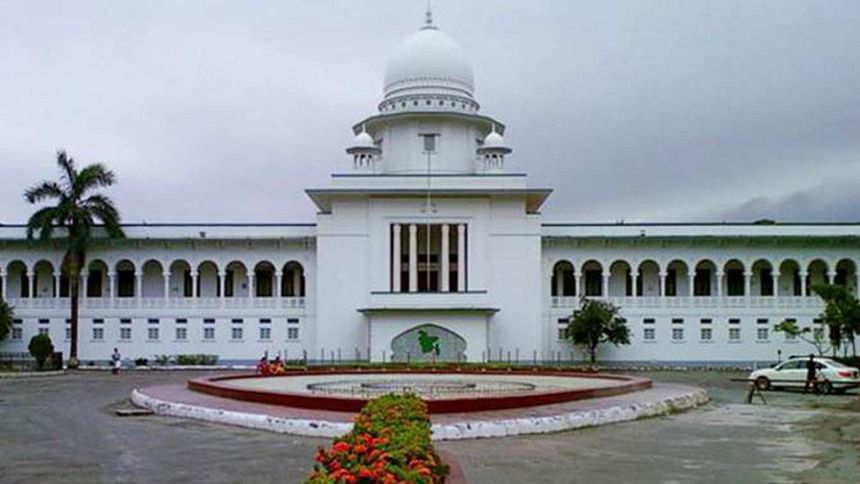 Protesting the government's move to seek review of the Supreme Court verdict on the 16th constitutional amendment, the Supreme Court Bar Association yesterday said the government wanted to tactfully make a decision through the apex court to keep the judiciary under its full control.
The government has taken a stand against the apex court verdict that scrapped the 16th amendment and filed the review petition against the judgment as it doesn't believe in rule of law and democracy, said SCBA President Zainul Abedin.
He was speaking at a press conference at the South Hall of the SCBA building. 
The 16th constitutional amendment empowered parliament to remove SC judges for incapacity or misconduct.
"It's clear from this verdict that the incumbent government is not an elected government. That's why it doesn't believe in rule of law and democracy," said the leader of SCBA, dominated by pro-BNP lawyers. 
He said five out of the seven judges, who delivered the judgment, were still carrying out judicial functions at the Appellate Division of the SC. He hoped they would dismiss the review petition in line with their previous judgment.
Among the seven judges, Justice Nazmun Ara Sultana retired on July 6 and then chief justice Surendra Kumar Sinha, now staying abroad, stepped down on November 10.
The seven-member SC bench, headed by Justice Sinha, on July 3 dismissed a government appeal and upheld a High Court verdict that scrapped the 16th constitutional amendment. 
On August 1, the SC released its full verdict in which Justice Sinha made some observations, criticising the country's present political culture. Many Awami League leaders, including some ministers, blasted Justice Sinha for his observations. 
The government on Sunday filed the review petition with the SC.
After filing of the petition, Attorney General Mahbubey Alam told reporters that the petition outlined 94 grounds on which the apex court may consider the government's prayer for restoring the 16th constitutional amendment, cancelling the provision of the Supreme Judicial Council and striking out some of its observations.
Zainul yesterday said the SC judgment was not against any individual. Despite that, some quarters of the government have forced Justine Sinha to step down, he alleged.
The SCBA president said it appeared from the attorney general's statement that the government forced Justice Sinha to leave the country through a "judicial coup" for his judgment and they were hatching a conspiracy to scrap the whole verdict through filing the review petition.
"It appears from the government's present activities and 94 points mentioned in the review petition that they [government] want to operate the whole judiciary for their own interest and the court has to deliver judgments as per the government's expectations."
Zainul also said the government tried to frighten the other judges by forcing the former chief justice to leave the country.
SCBA Secretary AM Mahbub Uddin Khokon also spoke at the press conference.