165 more back home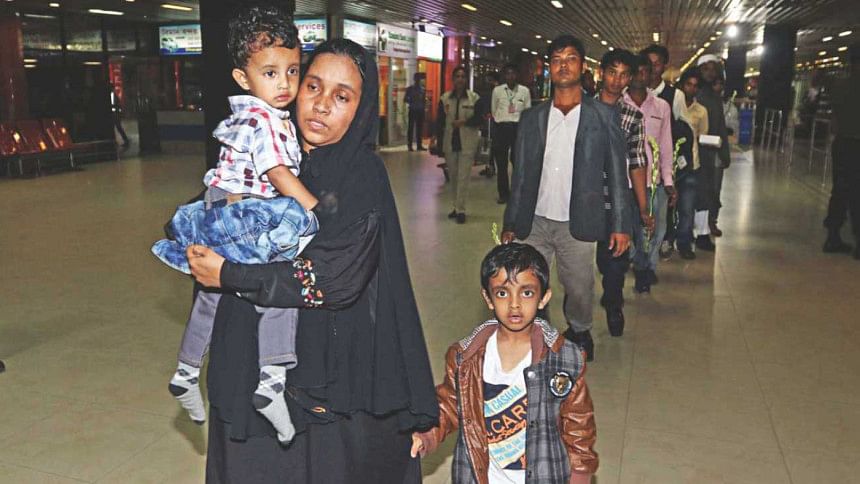 Stranded in war-torn Yemen for around three weeks, 165 more Bangladeshis returned home yesterday.
They landed in Dhaka on two separate flights. 
On Sunday, 337 Bangladeshis reached home from the troubled Middle Eastern country.  They were evacuated to Djibouti and brought to Kochi by two Indian ships. 
Of the yesterday's returnees, the first group of 29 Bangladeshis was taken to Ethiopia by the International Organization for Migration on Sunday.  They arrived in the capital around 11:50am yesterday.
The rest were brought to Djibouti from Hodeida of Yemen by an Indian naval ship on Thursday. Their flight reached Dhaka around 8:55pm yesterday. 
State Minister for Foreign Affairs Shahriar Alam received them at Hazrat Shahjalal International Airport.
Since the crisis hit Yemen last month, a total of 528 Bangladeshis have returned home, said sources.
Of the rescued, 490 were shifted to safety from Yemen by Indian ships, said sources at a temporary Bangladeshi mission in Djibouti.
Bangladesh has no mission in Yemen. The government had sought assistance from India and the IOM to help rescue its stranded nationals there.
Although the 165 Bangladeshis had to face a lot of hurdles, they were extremely happy to have returned home finally.
"We were staying in a building in Sanaa where the Saudi-led Arab forces and the Houthi rebels were fighting each other. We were very scared," said Mohammad Milon, one of the returnees.
He said the people in Sanaa were suffering immensely due to the crisis of electricity, food and water.
Kanchon, another Bangladeshi, said they got struck in Sanaa for days as there was no "air connectivity between the city and Dhaka".
"So, we had to stay in Sanaa despite the heavy bombing and firing between the two groups there," he added.
SM Mahbubul Alam, counsellor at Bangladesh embassy in Kuwait, said they would continue to run the temporary mission in Djibouti until it was needed.
Yemen has been in turmoil for months since the rebels took over the capital, Sanaa, after bursting out of their northern stronghold, according to international media.