15 lakh Yaba pills seized
5 Myanmar citizens among 12 held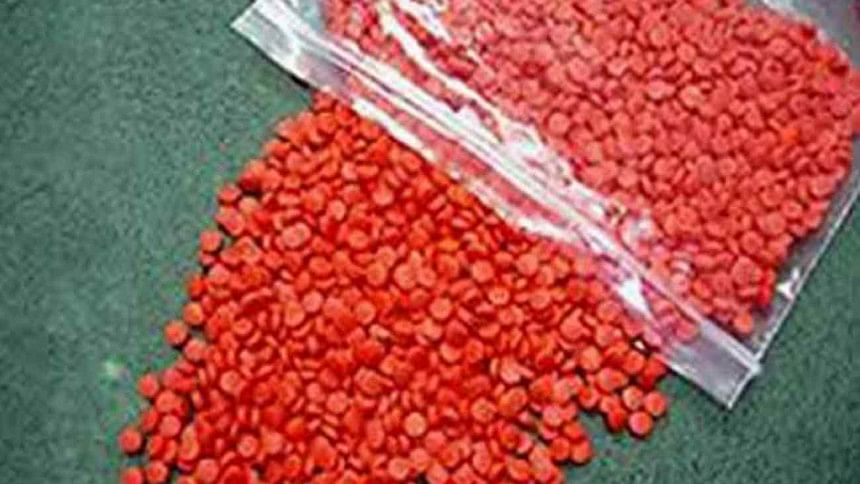 Rapid Action Battalion (Rab) seized about 15 lakh yaba tablets worth an estimated Tk 75 crore on the street and arrested 12 people after intercepting a fishing trawler coming to the country from Myanmar early yesterday.
The arrestees, five of whom are Myanmar citizens, were bringing the haul to Chittagong, Rab said.
On information that a trawler was on its way, Rab intercepted it at the outer anchorage of Chittagong port, said Rab-7 Commanding Officer Lt Col Miftah Uddin Ahmed at a press conference at his office yesterday.
Searching the trawler, Rab personnel later uncovered the large haul, he said.
The trawler, named "Mayer Doa [mother's blessings]" was fitted with a bus engine to be able to go faster, he added.
The five arrested Myanmar citizens are Ismail, 20, Abdul Khalek, 20, Saddam Hossain, 19, Nur Alam, 25 and Selim , 20. The rest are Cox's Bazar's Nazir Ahmed, 55,  Hashem, 19, Khairul Amin, 20, Zafor, 30, Khokan, 25 and Anisur Rahman, 18 of Bandarban's Chhadek.
In primary interrogation, the arrestees said the haul and the vessel were owned by one Faruque alias Baittya Faruque, 42, of Patiya upazila.  Miftah said they were looking for him.
Rab-7 Senior Assistant Director Mimtanur Rahman, quoting the arrestees, said drug traffickers used the trawler to go to Myanmar at least five times and smuggled in about 30 lakh yaba tablets recently.  
Miftah said drug traffickers recently started bringing consignments of yaba through unfrequented coastal areas in Chittagong such as Gohira, Potenga, Anwara, Khejurtola, Halishahar, Bhatiyari and Kumira at night.
Since January 2016, Rab-7 recovered over 1.18 crore yaba tablets, he added.