It's mask diplomacy
China tries to rewrite virus narrative by showering struggling nations with medical aid, low interest loans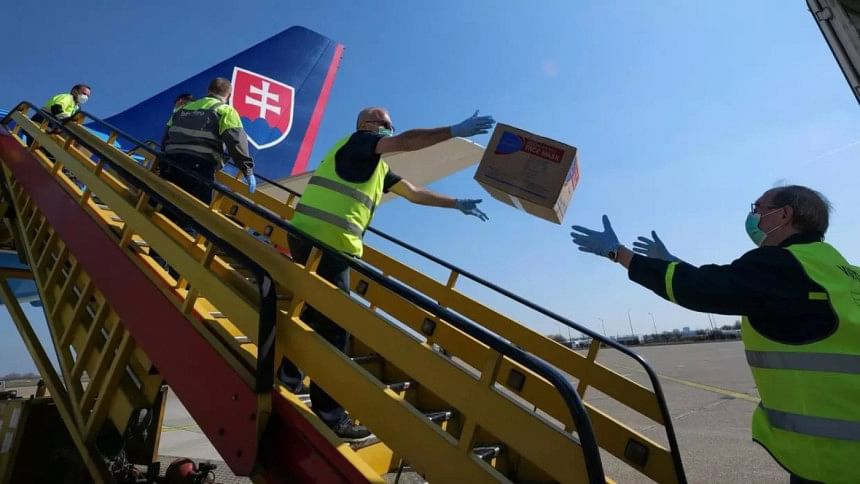 With millions of face masks, low interest loans and teams of medical experts, China is trying to paint itself as a Good Samaritan while deflecting criticism over its initial missteps in handling the coronavirus.
Beijing has showered struggling European nations with aid as part of a diplomatic charm offensive.
In recent weeks, it has also donated hundreds of thousands of surgical masks and test kits to the Philippines and Pakistan, sent teams of medics to Iran and Iraq, and extended a $500 million loan to help Sri Lanka combat the virus.
Beijing says it has now curbed its spread, with new domestic cases dwindling to zero Thursday. But as other governments now scramble to cope with the pandemic, China is sending masks, medical supplies and experts.
It comes as Beijing and Washington are engaged in a tit-for-tat public opinion war over China's recent mass expulsion of US journalists and President Donald Trump's continued use of the phrase "Chinese virus" to describe the coronavirus.
President Xi Jinping pledged assistance to hardest-hit Italy and Spain in phone calls with their prime ministers. Two Chinese medical teams were sent to Italy in a high-profile show of solidarity. Beijing also sent medical equipment to Serbia this week after an appeal for help.
Meanwhile Jack Ma, China's richest man, donated two millions masks to be distributed across Europe, with shipments having arrived in Belgium, Spain and Italy.
Another million masks bound for France left China on Wednesday. For some European countries, China's strategy appears to be working.
"There are competing narratives evolving in Europe. Most people see China being responsible for this global crisis," said Joerg Wuttke, president of the EU Chamber of Commerce in China.
"But the generous humanitarian help from China will possibly swing the public opinion in Europe more in favour of China."