Bangabandhu's autobiography translated to Korean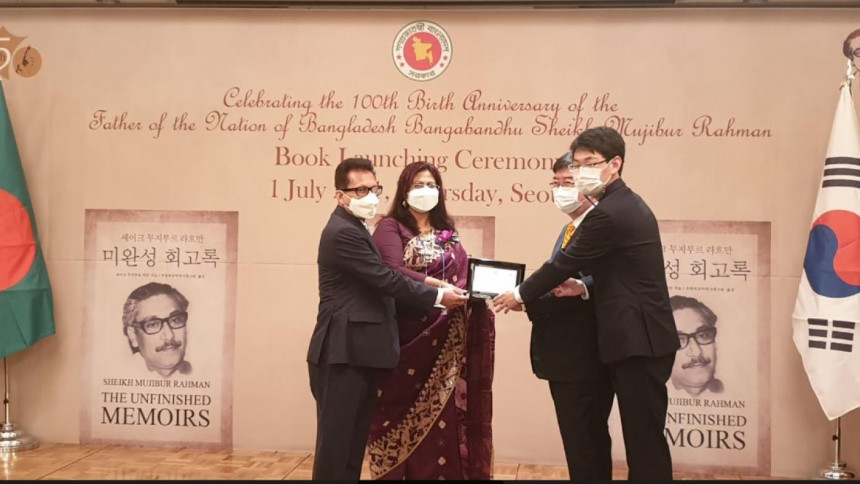 The autobiography of the Father of the Nation Sheikh Mujibur Rahman "The Unfinished Memoirs" has been translated into Korean language as part of celebrating his birth centenary.
Lee Dong-heon has translated the book and Korean publisher 'Moraeal LLC' will make this publication available both in the local book stores in Korea as well as online platforms, said Bangladesh Embassy in Korea that initiated the translation of the book.
The book was launched at a ceremony at Lotte Hotel in Seoul on Thursday.
Foreign Minister AK Abdul Momen and Nazrul Islam Khan, Curator of Father of the Nation Bangabandhu Sheikh Mujibur Rahman Memorial Museum sent video messages on the occasion of the unveiling ceremony of "The Unfinished Memoirs".
In his message, Momen said Bangabandhu's political vision as well as his unremitting support for humanism and world peace are reflected in his autobiography.
He expressed hope that the Korean version of 'The Unfinished Memoirs' will provide a unique opportunity to the friendly people of Korea to learn about the life of this greatest Bengali of all times.
His expectations were echoed by Curator Nazrul Islam Khan. Sul Hoon, member of Korea's National Assembly; Lee Sangryol, Director-General of the Asian and Pacific Affairs Bureau, Ministry of Foreign Affairs of the Republic of Korea graced the occasion as the guests of honour at the ceremony.
In her welcome remarks, Ambassador Abida Islam recalled with profound reverence the greatest Bangalee of all time, Bangabandhu Sheikh Mujibur Rahman.
She awarded crest to Lee Dong-heon, acknowledging his contribution in translating the book and to Sheuli Fateha, lecturer, Korean Language Program, Institute of Modern Languages, University of Dhaka who validated the translation work.
Earlier, the Embassy of Bangladesh in Seoul published the Korean translation of Bangabandhu's Historic 7th March speech and the book- 'BANGABANDHU THE PEOPLE'S HERO' for Korean readers.
As part of the event, a brief photo exhibition on the glorious life and works of the Father of the Nation Bangabandhu Sheikh Mujibur Rahman was also organised.