"We often have to brave harsh weather…." - Alvee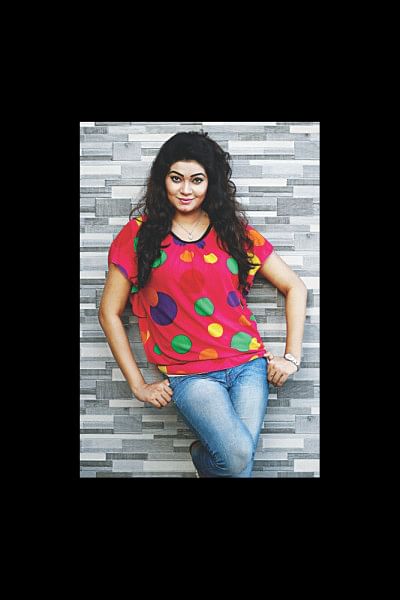 Alvee's graceful presence was well known before taking her talents to the small screen. She rose to popularity as a contestant on Lux Superstar beauty pageant, where she secured the second position. Now an active actor, Alvee is a regular face on drama serials across TV channels. She is currently spending a well-deserved break in her hometown Kushtia, and in a conversation with The Daily Star, shared stories of the various challenges and pressures she faces, and more.
Dream weekend getaway vs. current reality?
Alvee: With a bit of planning ahead and time, I would much rather prefer to spend my time off traveling outside Dhaka, or even the country. However, as an actor who focuses on drama serials, my weekend schedules are unpredictable and I end up spending the day at home with family. After long, arduous days of shooting, I look forward to sleeping in, and maybe going out for shopping in the evening.
What is the one beauty essential you cannot do without?
Alvee: I can't go out without kajol (kohl). But I would say the most important part of any beauty regimen is to work on one's mental health and happiness. It is also important to know how to dress appropriately for any place and occasion.
What are you currently working on?
Alvee: I am currently working on a number of TV serials. The ones currently on air are "Oloshpur" on Rtv, "Comedy 420" on Boiskhahi TV, "Bashontipur" on Channel i, "Rupani Prantor", "Jhulanto Babura" and "Chaander Gari" on ATN Bangla. "Astha" is being aired on ntv, and Bangla TV is airing "Bou Bibi Begum". "Mohaguru" is being telecast on Banglavision. There are 7-8 other serials that will go on air soon.
Who is your celebrity crush?
Alvee: Shah Rukh Khan has made an impact on me like no other. Although my parents are artistes themselves, watching him and Kajal on screen gave me my dreams of being an actor.
What do you wish people knew about your work?
Alvee: Unlike sets abroad, actors here have to go through a lot during filming, especially during outdoor assignments. Basic necessities are a far cry during those times, let alone comfort. The filming sessions can take up to a day or more, leading to various issues such as access to proper bathrooms or clean water. We often have to brave harsh weather conditions such as rains and storms to get the job done. I have even waded through knee-deep mud and swamps to reach a shooting location. This often takes a toll on our health, and at times we are subjected to illnesses and various infections. After all this, the only thing we desire from the audience is their feedback. We do what we do to popularise local entertainment so Bangladeshi productions get more airtime over foreign, dubbed shows.