Nagarik Natyangan's theatre fest opens today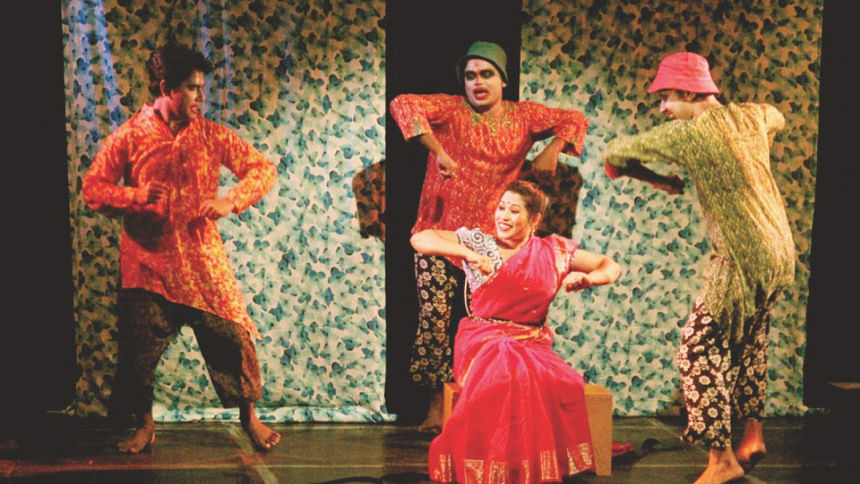 In celebration of its 20 years of journey in the country's theatre arena, Nagarik Natyangan is hosting an eight-day theatre festival at Bangladesh Shilpakala Academy (BSA). 
The festival, running from May 20-28, will open today afternoon at the National Theatre Hall. It features five productions by five local troupes and three plays by two Indian troupes along with a seminar on theatre and its presentation in print and electronic media. 
Information Minister Hasanul Haq Inu will inaugurate the festival as chief guest in presence of special guests including theatre and cultural personalities Ataur Rahman, Nasiruddin Yousuff, Golam Kuddus, Liaquat Ali Lucky, Jhuna Chowdhury, Akhtaruzzaman and Mannan Hira. 
The festival -- themed on Chitto Amar Bhoyshunno, Uccho Amar Sheer -- has been dedicated to English playwright William Shakespeare and Indian actor-director Shambhu Mitra.
Dhaka Theatre, Loko Natyadal (Siddheswary), Padatik Natya Sangsad TSC, Somoy Natyadal and the host Nagarik Natyangan are the participating local troupes. Also, Indian troupe Abhash will stage two of its plays and Noye Natua will stage one play at the fest.
In addition, Nagarik's own production "Pragoitihashik" will see its 100th staging on May 23. 
Veteran thespian Ferdousi Majumdar will be conferred with a lifetime honour on the opening day.
Following the opening ceremony, Dhaka Theatre will stage its productions "Eti Potromita" and "Golpo Niye Golpo".