'Stalin' staged at BSA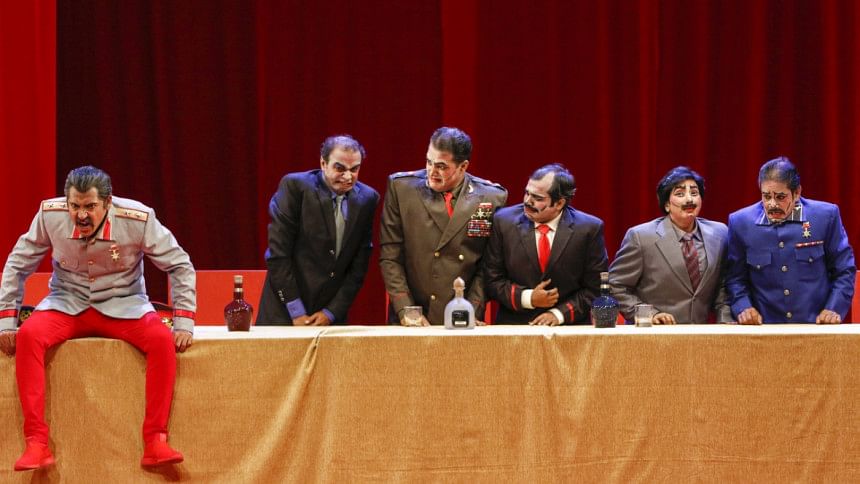 Centre for Asian Theatre (CAT) staged their latest production, 'Stalin', at the National Theatre Hall of Bangladesh Shilpakala Academy (BSA) recently, after its premiere on June 10. The hall entrance wore a bright shade of red, while long red fabric banners, bearing the hammer and sickle symbols, hung from the ceiling all across the arena.
The play, based on a few books on Joseph Stalin, is directed by the renowned thespian Kamaluddin Nilu and translated to Bangla by Raihan Akhter. As the story unfolds, Stalin is portrayed as an authoritarian figure, a trait that helped him establish a strong foothold into politics during his reign in the Soviet Union. However, the play depicted the harsh leader in a rather satirical manner, including the members of his politburo.
Stalin's occasional dialogues with his daughter Svetlana, gave the audience a glimpse of how the leader also suffered emotionally. The mood often shifted when the play mostly portrayed the leader's meetings with his sycophant comrades.
Right before the play came to its ten-minute intermission, the atmosphere of the Soviet surrounding changed with a Western song, Cruel Cruel World by Willie Nelson. However, as the troupe members got down from the stage singing the song aloud while engaging with the audience all around, the hall room wore a wide smile excited by the unusual approach.  
During various times across the nearly three-hour long play, references to Lenin, Karl Marx, Leon Trotsky and Adolf Hitler were customary, as they all had an influence on Joseph Stalin. The powerful visuals, set design, music and lighting managed to captivate the audience.
The members of the troupe comprised of Sabina Sultana, Raihan Akhter, A K Azad Shetu, Shahadat Hossain, Md Rafi Sumon, Shipra Das and Mejbaul Karim amongst others. Sardar Aftabuddin was behind the set design and Nasirul Haque Khokon was behind the lighting. Ahsan Reza Khan was responsible for the sound, music and videography. Costumes and props were managed by Rahmatullah Basu, Chinmoyee Gupta and others.