Solo exhibition 'Voice of Colors' organised virtually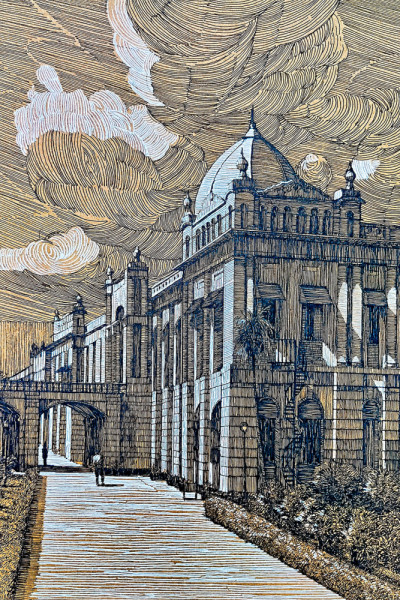 "Voice of Colors", a virtual exhibition by artist Nur Munjerin Rimjhim, is currently available to viewers on EMK Center's website.
Rimjhim, the champion of Berger Young Painters' Art Competition 2019, intends to capture architectural and scenic beauty through her work. The 42 featured artworks from "Voice of Colors" revolve around gender norms and societal roles, among other thought-provoking themes. The exhibition, which started on February 6, will be available online till December 31, 2021.
Rimjhim is a student of Faculty of Fine Art, Dhaka University (DU), fondly known as Charukola. The inauguration ceremony was attended by her professors from the Department of Drawing and Painting, Faculty of Fine Art, DU. "Rimjhim uses a remarkable tone while working with pencil sketches and that has paved the way towards her academic success," said Abdus Sattar Toufiq, Assistant Professor, Department of Drawing and Painting, Faculty of Fine Art, DU.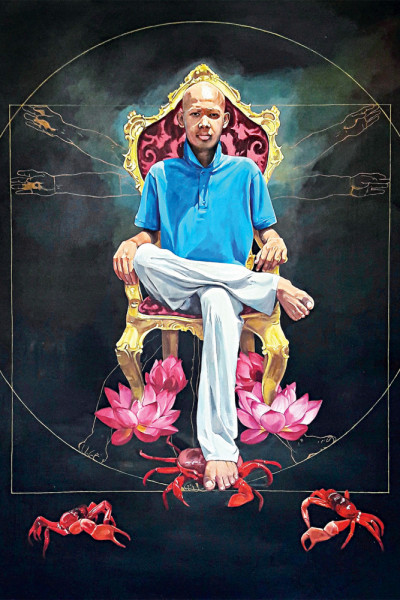 Art is a way of preserving memories for Rimjhim. "I started working on a painting, titled 'Renaissance', when my brother was diagnosed with cancer, and went to India for his treatment," she shared. The acrylic painting summarises the valiant journey of her brother, who is seen to be sitting on a throne. The crabs at his feet denote the astrological sign of cancer. "Since his treatment was completed in India, I used their national flower, Lotus, as a way of acknowledging the country," she added. Another painting, called 'Internal Existence',  is also dedicated to her brother and highlights his journey of defeating the disease.
Her painting, "Blockage", is a part of a series that intends to address the everyday lives and struggles of women. "I have used my experiences as a Bangladeshi woman in this painting. The male gaze signifies the invisible vigilante faced by women in this country," she said. Her work also shows how people often use religion as a tool to discriminate against women.
During Inktober 2019, she worked on various sketches revolving around the architecture of Charukola. The 31 pictures of this series are done on a mount board with black and white gel pens.
Rimjhim's pen sketches cover Dhaka University extensively, from the entrance gate to the Raju Memorial Monument. Metro rail authorities cut down trees near the adjacent area to the TSC boundary from the Raju Memorial Monument to Doyel Square to widen the road for construction of a station. Several students of Dhaka University protested this move. "Development is necessary, but it should never compromise the cultural heritage of a country. Although the monument will never be the same again, it will remain eternal through my art," Rimjhim said.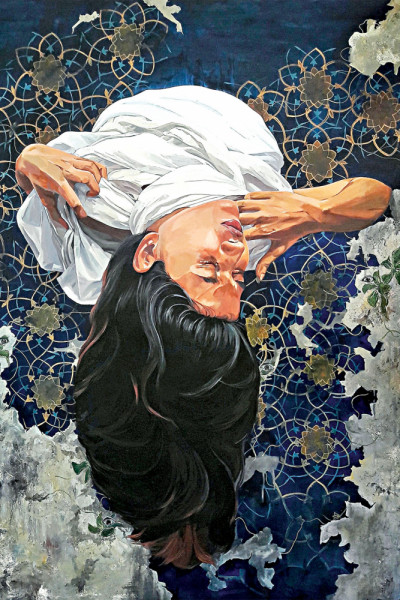 Be it the bylanes of Old Dhaka or moments from her India tour, the artist tries to hold on to things that are close to her heart. "My art has helped me share my stories and express my opinions. It is a part of who I am," she added. She also appreciated the efforts of EMK Center in encouraging young artists.
"Voice of Colors" is EMK Center's fourth virtual exhibition. The organisation aims to explore the scope of augmented reality and spread the technology to educational institutions, for students to participate in virtual science and art fairs. "Creativity is a blend of art and science, and it must be encouraged at all levels," said Asif Uddin Ahmed, Acting Director, EMK Center.
The author is a freelance journalist. mislammonamee@gmail.com.