Ninth day of 'Mujib Chirantan' revisits dark night of March 25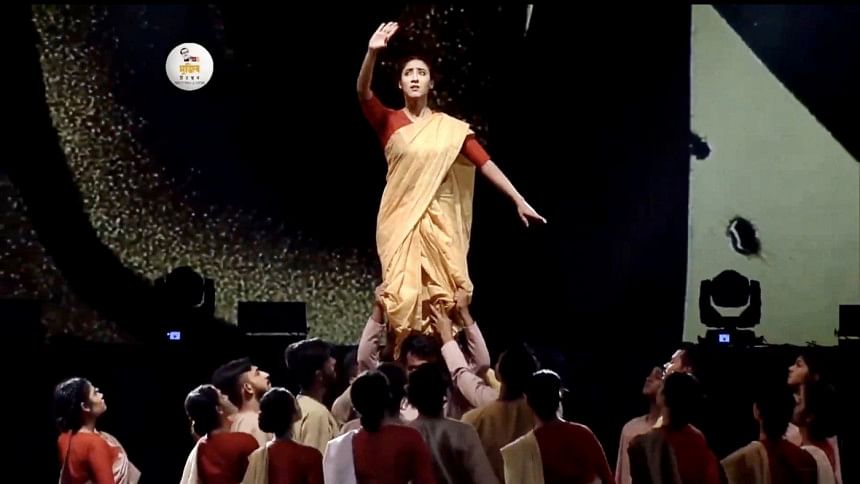 Commemorating the birth centenary of the Father of the Nation Bangabandhu Sheikh Mujibur Rahman and the golden jubilee of Bangladesh's independence, a ten-day programme, "Mujib Chirantan", began on March 17 at the capital's National Parade Square. With the motto, "Gonohottar Kaalratri O Alok er Obhijatra" the ninth day of the commenced with an introduction to the black night of March 25, 1971, and its impacts.  The event was attended by the Honourable Prime Minister Sheikh Hasina, and Sheikh Rehana. They were welcomed by Dr Kamal Nasser Chowdhury, Chief Coordinator of the National Implementation Committee for the Mujib Barsha.
A formal discussion was planned and hosted by writer, researcher, and trustee of the Liberation War Museum, Mofidul Hoque.
50 years back, on March 25, Pakistan Army launched 'Operation Searchlight' resulting in a genocide, over a period of nine months, till the army was defeated. On the golden jubilee of our independence and the 50th anniversary of the genocide, Bangladesh strives to bring her achievements to the forefront of the world, in establishing justice and truth. 
On the occasion, Bangladesh received heartiest congratulations and wishes through recorded speeches from Prince Charles, Prince of Wales, on behalf of United Kingdom, Commonwealth, Chung Sye-kyun, Prime Minister of Republic of Korea, Mr Osamu Hayakawa, son of Takashi Hayakawa from Japan, Teodoro Locsin Jr, Secretary of Foreign Affairs of Philippines. King Felipe VI of Spain's message was read out by Ambassador Francisco de Asís Benítez Salas. King Philippe of Belgium's message was read out by Shahriar Alam, MP, Foreign Minister of Bangladesh. Miloš Zeman, president of Czech Republic's message was also read out by Alam.
Andrej Duda, President of Poland's  message was read out by AK Abdul Momen, MP. Edgar Chagwa Lungu, president of Zambia, Miguel Díaz-Canel, President of Cuba Republic, also sent their messages. Boyko Metodiev Borisov, Prime Minister of the Republic of Bulgaria's message was read out by AK Abdul Momen. Rabah Larbi, Ambassador of Algeria to Bangladesh, was also in attendance.
The second part of the event began with a cultural performance by artistes, on behalf of Algeria. The next performance was presented by artistes of Brunei, Jipin Laila Sembah Dance and Jong Sarat Dance.  The cultural performance by Indonesia was introduced by H E Rina Soemarno, Ambassador of Indonesia to Bangladesh and Nepal. The Indonesian dancers performed their traditional dance, Pencak Silat, and demonstrations of their traditional martial art, Punjab Sulak.
Following through, the next part featured musical performances of "O Burigonga Nodi Re" by Mehbub Baul and "Song of Bangladesh" by Elita Karim and Bappa Mazumder. Jibon Ray presented several sand artworks throughout the event, with commentary on the Liberation War.
The show mentioned and celebrated Bonnie Cappuccino for her efforts during the war and her child's haven "Shishu Shorgo" which was established in 2002, at Chattogram. Bonnie Cappuccino and her foundation, Families for Children, visited Bangladesh from Canada to take responsibility for abandoned war children, a gesture of humanity which the pages of history recognise.
The translated musical rendition of "September on Jashore  Road", a poem by American poet and activist Allen Ginsberg, was presented by Moushumi Bhowmik and Badhonhara.
Rafiqul Alam, Timir Nandi, Linu Billah, and Khurshid Alam performed "Salam Salam Hajar Salam". Next, a dance performance was performed by Sharmila Bandopadhyay and her team on "Shob Kota Janala Khule Dao Na".
"Nimojjon, The Deluge" was staged, honouring  Selim Al Deen. The excerpt was from "Scenes from the Theatre of Genocide", directed by Nasiruddin Yousuff.  After the musical number performed by Swabhumi Lekhok Shilpi Kendro, "Uriye Dhwaja" was performed by Rabindra Sangeet Sommilito Porishod along with Sharmila Bandopadhyay and her team.
Jerin Farishta recited the poem "Obinosshor Bangabandhu", followed by a musical number by Sujit Mustafa and Swabhumi. Sabina Yasmin performed "Jonmo Amar Dhonno Holo," "Shei rail-line er Dhare", and "Shundor Shuborno".
The day concluded with "Shaare Shaat Koti Manusher Arekti Naam Mujibor" and "Purbo Digonte Shurjo Uthechhe" performed by popular band Dalchhut.
The author is a freelance journalist.