National Film Awards celebrated in grandeur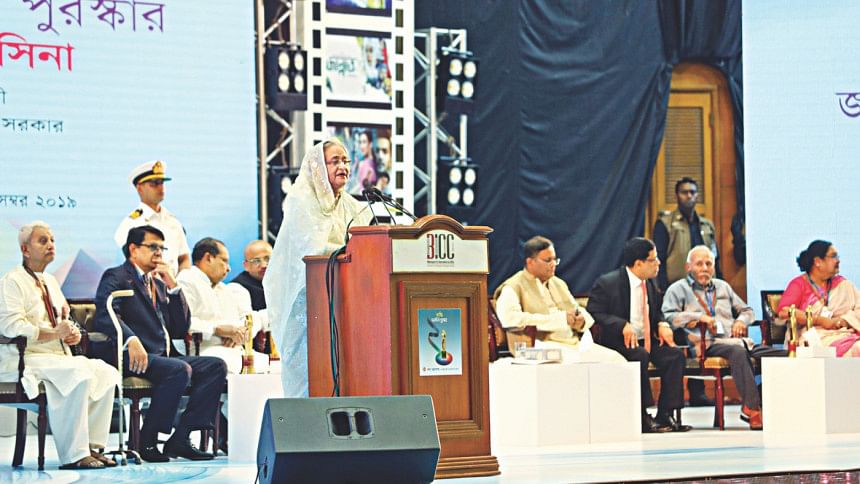 The Bangabandhu International Conference Centre (BICC) was adorned with beautiful decorations, complete with posters and banners of films in the yesteryears -- as the National Film Awards for 2017 and 2018 were handed over to the awardees in the grandest celebration of the film industry and its most dedicated contributors, yesterday.
The programme, attended by Prime Minister Sheikh Hasina as the chief guest, was presided over by Information Minister Hasan Mahmud. Present as the special guests, were State Minister of Information, Dr Murad Hasan, and Hasanul Haq Inu, former Minister of Information.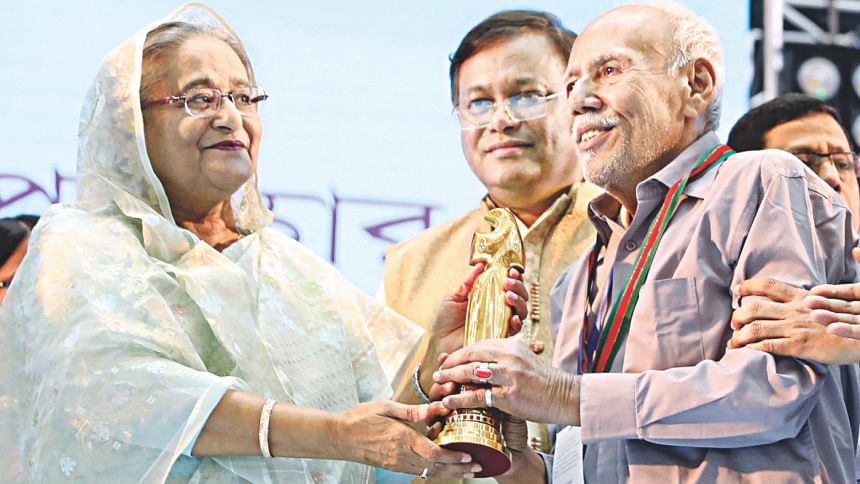 "The film industry has the responsibility of spreading a positive message to the society," said the Prime Minister in her speech."I believe that our artistes are some of the most talented ones that I have ever seen. I hope that you (the artistes) will keep making the country proud, and also produce films which reflect various aspects of real life, from which one can derive inspiration."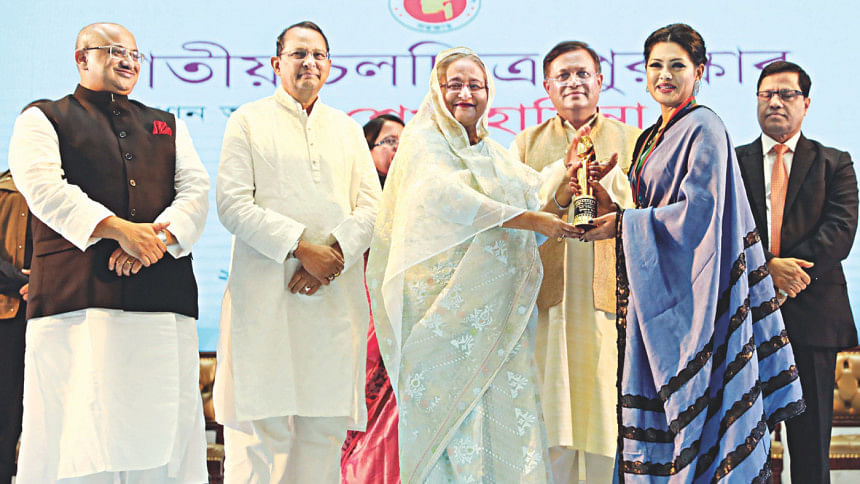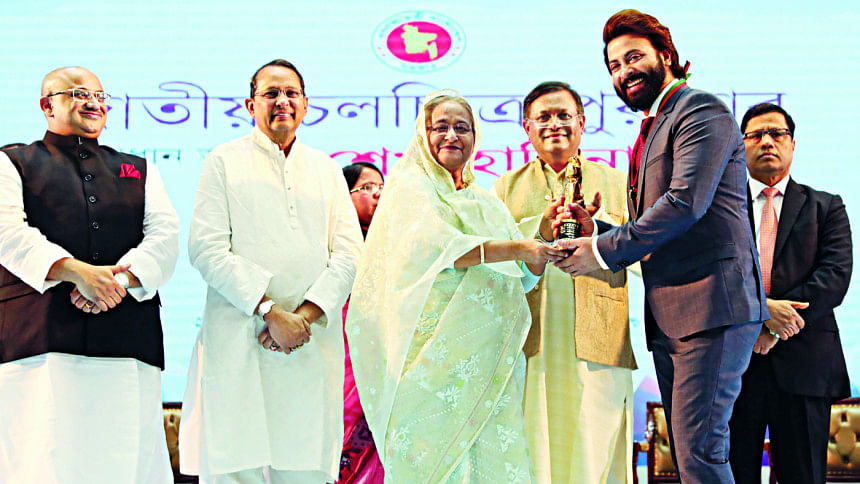 Four eminent personalities were presented with the Lifetime Achievement Award for their relentless contribution to the film industry- ATM Shamsuzzaman, Prabir Mitra, Alamgir and Sujata.
For 2017, Shakib Khan and Arifin Shuvo jointly won the award for Best Actor in a Lead Role (Male) for their roles in Shotta and Dhaka Attack, respectively, while Nusrat Imrose Tisha won the award for Best Actor in a Lead Role (Female) for her role in Haldaa. Ferdous and Symon Sadiq jointly won Best Actor in a Lead Role (Male) for their roles in Putro (2018) and Jannat (2018), respectively, whereas Jaya Ahsan won Best Actor in a Lead Role (Female) for her role in Debi (2018).
Badrul Anam Saud bagged the award for Best Director in 2017 for Gohin Baluchor, while Mustafizur Rahman Manik was awarded for Jannat (2018).
A beautiful cultural programme took place after the event, hosted by the beloved duo of Ferdous and Purnima. A musical performance by eminent artiste Khurshid Alam was one of the highlights of the programme, along with memorable ones by Momotaz, Samina Chowdhury, Naquib Khan, Imran, Kona, Sabbir and Liza. Apu Biswas, Mahiya Mahi, Bobby, Tama Mirza and Nusraat Faria brightened up the evening with their dance performances. Warda Rihab presented a patriotic performance with her troupe.
The National Film Award, honouring the efforts of the people working in front and behind the scenes in the film industry, is one of the biggest achievements for an artiste in the country.