"My heart lies in art" - Ruhul Karim Rumee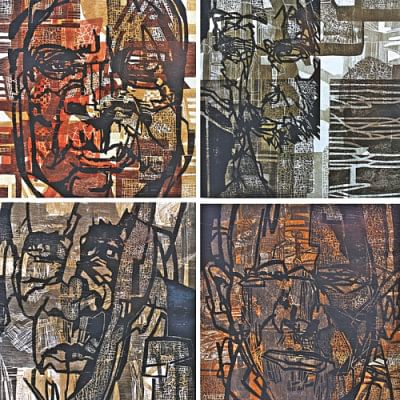 Even before he started school, Ruhul Karim Rumee's passion for art was profound in his performance. Born and brought up in Dhaka, the artist learnt from his family members that as a young child, he would often use chalks to draw on the ground, transforming it into his very own imaginative canvas.
"I completed my BFA and MFA from the Faculty of Fine Art, University of Dhaka, in order to pursue a professional career," mentions Rumee. "With a knack for Printmaking, I majored in Woodcut (a printmaking technique where an image is carved into a wooden surface, covered in ink and printed on another surface). Presently, I am working as an Assistant Professor at the Institute of Fine Arts at the University of Chittagong."
Rumee has also been an avid participant at the National Art Exhibition since his student days. Following its formation in 1974 by Bangabandhu Sheikh Mujibur Rahman, Bangladesh Shilpakala Academy (BSA) organised the National Art exhibition from 1975, to showcase the contemporary art of the country biennially.
Currently, the 23rd National Art Exhibition is underway at the National Art Gallery of BSA, which was inaugurated on July 1 and will run till July 21. Considered one of the most significant of its kind, the exposition features an assortment of artworks on diverse mediums and genres.
"This year, artworks by ore than 300 artists are on display and I am amongst the eight fortunate artists, who were awarded in different categories at the inaugural ceremony," acknowledges Rumee. "I won the Bangladesh Shilpakala Academy Honourable Mention Award in Print Making, for my series, Portrait of Ambiguity".
However, this is not a first for the adroit artist to be awarded at such a prestigious event. He has three other National Art Exhibition Awards to his credit, including a grand award, which he won in 2015 as part of the aforementioned series. That artwork was later collected by Bangladesh National Museum.
Apart from compelling the nation with his artistic aptitude, Rumee participated at various prominent art camps across the globe upon invitation. He partook in China (2012), Nepal (2017), Indonesia (2018) and Thailand (2019), along with two more upcoming events this year.
Having conducted seven solo exhibitions successfully, along with a growing list of significant awards, Rumee seems rather optimistic about his career. "My heart lies in art." he describes. Despite the generous achievements under his belt, the established artist aspires to become a better mentor to provide quality education to those under his tutelage, in order to enrich the ever evolving world of art.