Monirul Islam to receive Royal Spanish Order of Merit tomorrow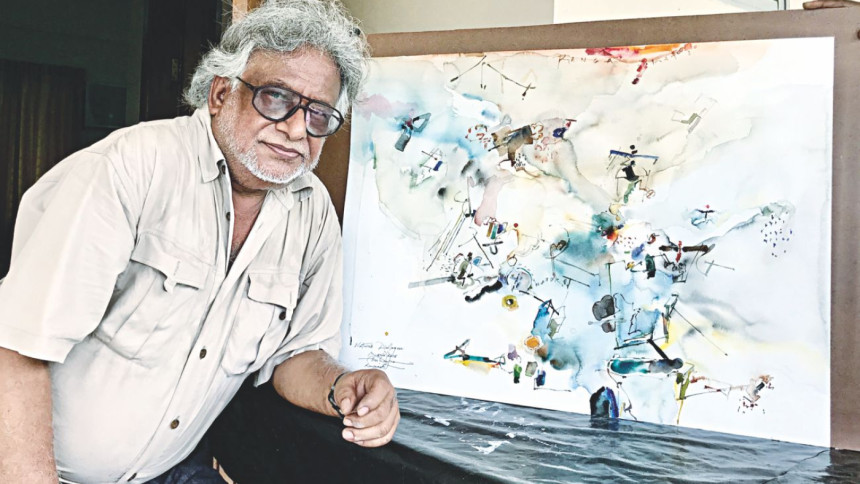 Internationally renowned Spanish-Bangladeshi artist Monirul Islam will be conferred the Royal Spanish Order of Merit at the residence of the Ambassador of Spain in Bangladesh, tomorrow evening. The living legend of art was recently bestowed with the Bangla Academy Honouary Fellowship 2018 in Fine Arts. He will also receive Zainul Sammanona (conferred by the Faculty of Fine Art, University of Dhaka) on December 29, the birthday of Shilpacharya Zainul Abadin.   
"I feel proud and lucky to have worked with our great Guru, Shilpacharya Zainul Abedin. When I was a young teacher at Dacca Art College (Now Faculty of Fine Art, University of Dhaka), I came to my hometown Chandpur, at the confluence of three mighty rivers -- Padma, Meghna and Dakatia, to accompany him at a four-day outdoor work on a boat," mentioned the Ekushey Padak winning artist whilst going down memory lane.
Monirul Islam, who was also conferred the Cross of Officer of the Order of Queen Isabella in 2010, says that art, aesthetics and emotion are basic things of life. "Life is a canvas and it is the artists who portray the various aspects and elements of life into it. Understanding art is a process that incorporates many things. It doesn't happen all of a sudden in someone."
Subtle lines and a harmonious colour balance between space and composition is the hallmark of his art, embellished with doodles, lyrical lines, dots, tiny motifs and a lot of symbols. Applying meticulous colours in thin layers and reducing the texture of the paint to its most minimal expression, Monirul Islam established his signature style of art in the early '70s. 
According to the great artist, art is successful when it is admired universally. No specific language is needed to garner acceptance and appreciation, because art itself is a language with a heavenly grace. The people who are able to wear the beauty of art are the luckiest people in the world. "My artistic fantasy plays with many unfinished works scattered in my studio. They seem to grow with my dreams spreading their wings. I dream of depicting what I cherish; but I don't know if I'll make it," says Monirul Islam. "This unquenchable thirst is a prerequisite for any artist to move forward. Art itself is much more powerful than the artist."