Monchosharothi Ataur Rahman reviews Padatik's 'Prerona'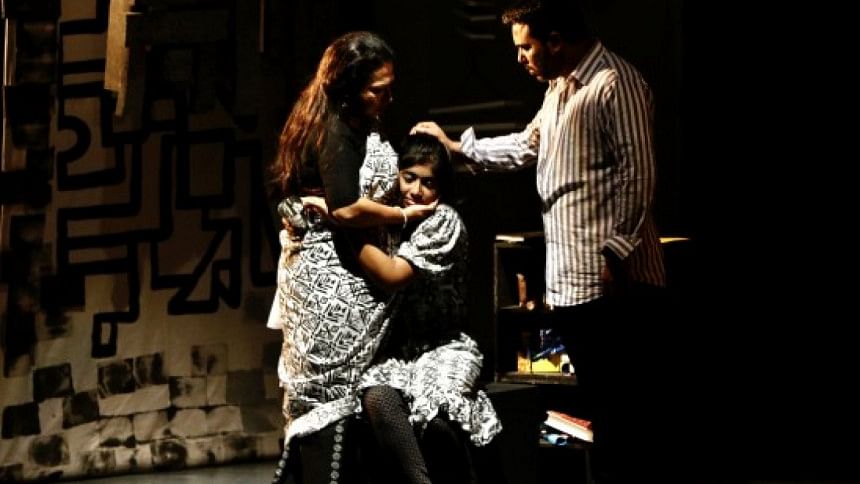 I am inclined to write a few words on the play' Prerona', which dealt with the subject of Autism. Having been a theatre activist for about 55 years, I have been inclined to observe and watch physical deficiencies of the societies we live in. Theatre has dealt with the human behaviors for time immemorial, both pro and contra for ages. Shakespeare, Ibsen or Rabindranath's plays, for example, are not devoid of these traits. Theatre embraces human beings sorrows and pleasures almost equally. Theatre is a living art medium, which deploys both pain and pleasure to be shared equally by the actors on stage and the audience-spectators inside the auditorium. Theatre is meant to be an applied art form, which encompasses pleasure as well as food for thought relating to the societies of different countries of the world concerned.  
Personally, I was engulfed with these feelings while I was watching 'Prerona', meaning 'inspiration'. 'Prerona' is the 33rd  production of Padatik Natya Sangsad, a front ranking theatre group of the country. Under the leadership of Selim Shamsul Huda Chowdhury, Padatik Natya Sangsad marching forward for last many years with the stage plays of varied content and structure relating to the human beings of the society as well as the country in the broad spectrum.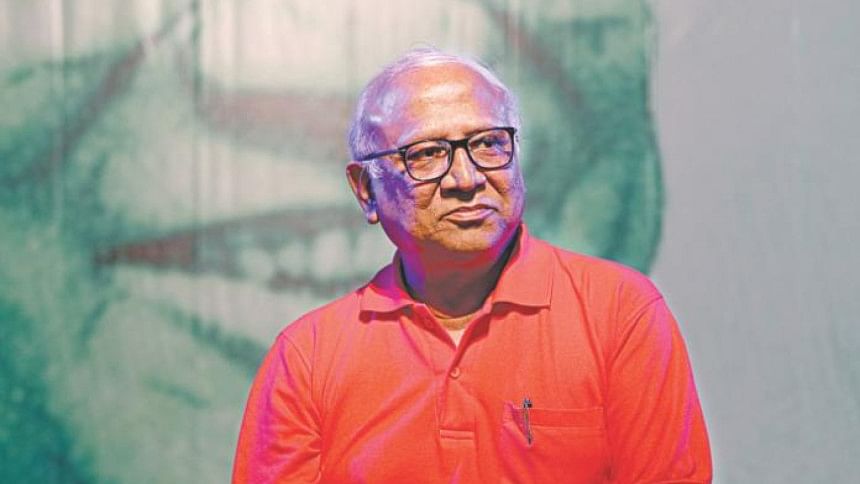 I personally feel uncomfortable using the word 'autism', although it is an intentionally accepted term. I would rather call an autistic child as a mentally or physically challenged individual.
Padatik very aptly dealt with the subject, under the direction of Sabil Reza Chowdhury and Professor Abdus Selim as an advisor. The duration of the play is slightly above one hour. I happened to watch this play recently at the Mohila Samity Auditorium of Natok Saroni. The protagonist of the play is 'Pori', a sweet girl in her teen. She is physically and mentally challenged.
The mother is the centerpiece of any family. Rabindranath Tagore expressed his intense feelings relating to Nandini, the central character of the play 'Ratokorobi' -- that women will one day rescue this world from the unholy spirit of rapacity. In case Pori, physically and mentally challenged girl, her mother is her prime source of inspiration and support. Because, in all societies of the world Mother is the inspirational pivotal force. She is the saviour during the bad times, as well as family crisis.
It has been observed by the social scientists that physically or mentally challenged boys or girls, if given, good end affectionate care by the society and the family, they can overcome all odds and come out victorious in all spheres of life including intricate subject like drawing or pointing.  
Samiyaa Chowdhury Joyee acted in the role of Pori very aptly. It was heartwarming. In the role of Pori's mother, Sadia Bydum Maknoon and Pori's father, Sabil Reza Chowdhury both acted justifiably well in their respective roles. After several ups and down the play concludes with a positive note encompassing pleasure and fulfillment of life even with an autistic kid in the family.  
As  writer and director of the play, Sabil Reza Chowdhury has done a commendable job. All the designers of production have performed their job compassionately. A special mention is required for stage designer, Polash Hendry Sen and light designer, Aumlan Biswas.  
The daughter of our country's Honorable Prime Minister, Saima Wazed Hossain is an Autism activist. She is a member of World Health Organization's 25- member expert Advisor Panel on mental health and a Goodwill Ambassador of WHO for autism in the South-East Asia Region. 
 I will conclude by saying that autistic kids are usually very sharp mentally. If given proper care by the family, society and the school, they can conquer the knowledge of any area of human dealings. We are fortunate that government is fully aware of these facts. Mentally or physically challenged boys or girls are our children, and must not be neglected. Kudos to Padatik's play-production of 'Prerona'. Long live the  theatre of our country, which one of the best gifts of our victorious war of liberation.  
The author is an Ekushey Padak awardee and an actor, writer and director.