'Kanjoosh' brings laughter to the stage amid pandemic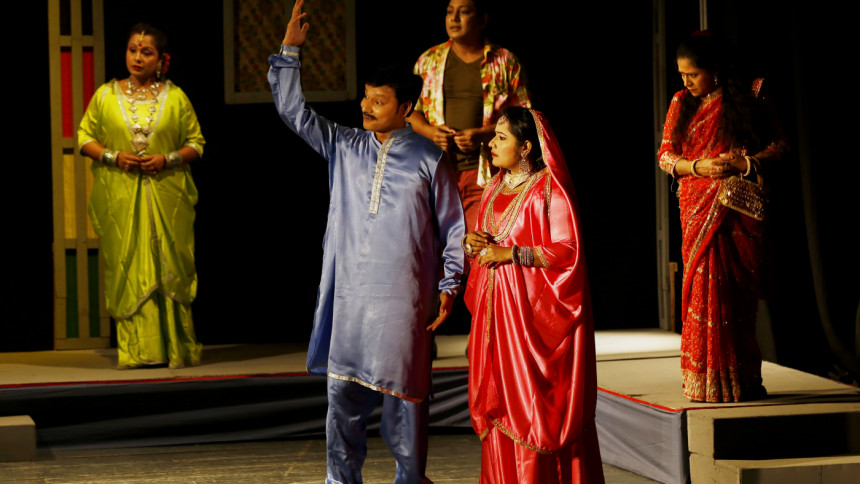 Among prolific playwrights, Moliere is a household name in comedy. Adaptation of one of his most famous works, "The Miser", translated as "Kanjoosh" has been a landmark production in the history of theatre in Bangladesh. Premiered in 1987, "Kanjoosh" is the most staged play of the country. With a gap of a year due to the coronavirus outbreak, Loko Natyadal (Banani) returned on stage with this play, at the Nilima Ibrahim Auditorium of Bangladesh Mahila Samity in Dhaka. This production has been adapted by Tariq Anam Khan and directed by Kamrun Nur Chowdhury. 
'Kanjoosh" is not necessarily a larger than life designed production, yet, it touches base with audiences of different ages and intellectual standards. A comedy of morals, "Kanjoosh" addresses vices such as greed, pride, greed, social pretensions, nepotism and hypocrisy. A quote by Moliere could perhaps wrap up the concept in a nutshell, "Life is tragedy to those who feel and comedy for those who think."
The play revolves around the protagonist, a rich old man named Haider Ali, who is obsessed with his wealth, and always ready to save expenses. Through Haider Ali's story, "Kanjoosh" addresses the selfish and opportunistic tendencies of the elite.
The five-act play, through its jovial colloquial linguistic excellence, evaluates human absurdity and incongruity as an undertone. The projection sometimes felt exaggerated and loud, but the inclusion of recent socio-political concepts in this adaptation were noteworthy. Over the years, it has been known to make audiences laugh, regardless of their age – this production amid the pandemic was no different.  The agelessness of the play was apparent in the houseful auditorium.