Int'l Art Fest 2020 Nilphamari concludes on a high note
The third International Art Festival 2020 Nilphamari concluded on a high note. Artists from five countries created a cornucopia of artwork in a four-day art camp, the outcome of which were on display yesterday at the idyllic ambience of Nilsagor, the festival venue.
State Minister for Information and Communication Technology, Zunaid Ahmed Palak, graced the occasion as the chief guest, while former Cultural Affairs Minister Asaduzzaman Noor presided over the programme. Convener of the festival, renowned artist Mohammad Eunus, spoke at the event, while the curator of festival Md Harun-ar-Rashid Tutul elaborated the details of the arrangement.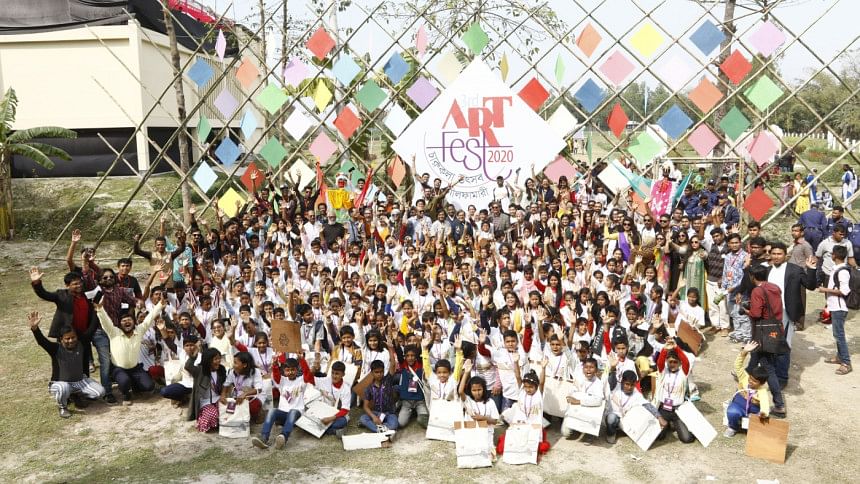 Nupur Khanam Duli hosted the concluding programme, where Zunaid Ahmed Palak sang Cholo Bodley Jai, originally recorded by the legendary Ayub Bachchu. Palak expressed his sincere desire to hold this iconic festival at Chalan Beel, a vast waterbody adjacent to Natore, the minister's hometown. He also declared the plans for an animation studio at the Department of Graphic Design, Faculty of Fine Art, University of Dhaka, and the BDT 100-crore project of'Nilphamari ICT Park' in the district.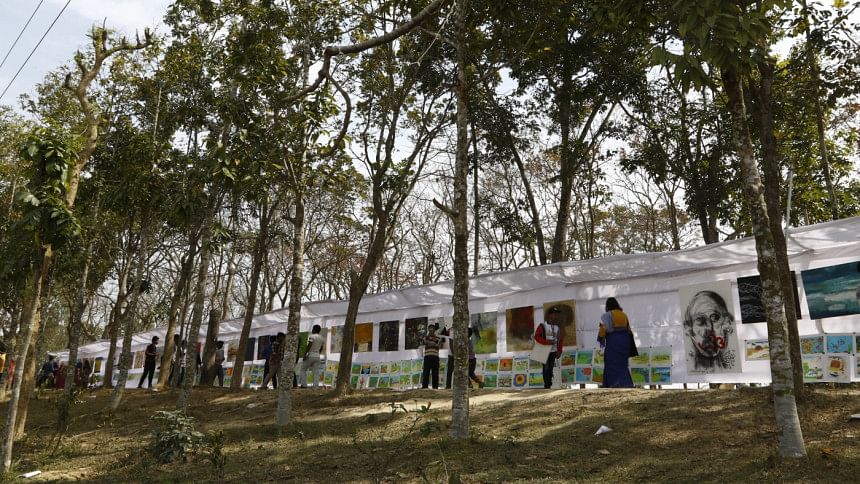 Asaduzzaman Noor thanked the management for successfully hosting the festival in his home town. His majestic recitation of excerpts from Syed Shamsul Haq's famous poetic drama, Nuruldin er Sharajibon, astounded the audience. The guests handed over certificates and crests to the participating artists.
In an abrupt announcement, when the host invited me on stage to say something, I sang the Kabir Suman song, Banglar Dhonuker Chhilaay Chhilaay Joto Taan, as I went on to share my beautiful experiences of the festival.
Five generations of artists spontaneously participated in the grand festival, where they created a number of artworks on Bangabandhu, alongside the beautiful cultural heritage of the place. The emerging artists worked tirelessly to create commendable pieces. Contemporary, foreign, and the country's renowned artists worked together, and participated in various art and cultural activities. Their positive vibes kept the venue vibrant during the festival. It is safe to say that the organisers' commitment to re-construct a beautiful Bangladesh through innovative art practice, has been fruitful.
The Art Festival 2020 Nilphamari Organising Committee, Vision 2021, Nilphamari, and Art Bangla, Dhaka, deserve accolades for this ambitious undertaking, the festival was one of the most memorable celebrations of art in recent memory.