How are museums facing the coronavirus crisis?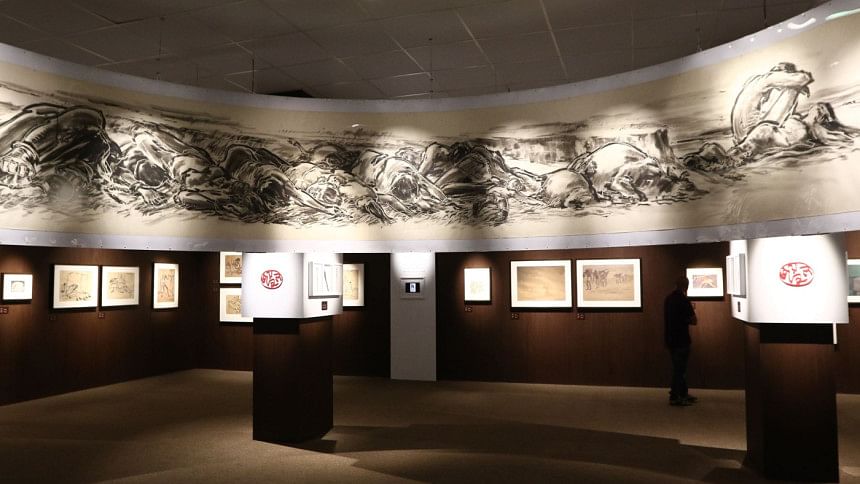 It has been a while since shutdowns and restrictions due to the coronavirus pandemic have been imposed and it seems like these restrictions are not going to be lifted anytime soon.
With the onset of the pandemic, museums across the globe are facing massive challenges and coming up with very innovative ways to stay afloat and connect with the public. Most of the museums across Bangladesh and India are funded by their respective governments.
As Tejshvi Jain from ReReeti Foundation says, "If you look at the 2013 -2014 survey for museums across India, there were approximately 900 museums and it would have easily crossed 1000 by now. Out of that, 36 percent were state funded, 17 percent were central, 13 percent were managed by universities. Only 10 percent are privately funded."
Museums like the Bangladesh National Museum in Dhaka and those in India have had to re- strategise their finances and public- involvement approach in these critical times. The ones that depend on ticket money, like CSMV (Mumbai), are definitely going to feel the brunt of the crisis. The pandemic, however, has pushed the museums to explore online platforms.
Bhau Daji Lad (BDL), Mumbai's oldest museum, functions on a public- private trust model, so they don't have to rely on ticket sales. BDL has progressively utilised the online platform in innovative ways. Their Honorary Director and Managing Trustee, Tasneem Zakaria Mehta sheds light on the matter.  "Google has put a collection of many institutes from across the world online," she says. "In Mumbai, we were the first museum that they put online and it has around 50 million viewers  across the globe."
They have a large amount of their collection on their website, and have been actively conducting webinars and online exhibitions. They have been a part of podcasts and engaging the community through quarantine e- cards, which can be sent to loved ones, amongst their many other activities. Mehta explains that a lot of things that they do is interactive and participatory. "We have flashback Fridays, where we revisit our exhibitions because there many people who may not have had the opportunity to see those exhibitions. In some cases the artists speak again and talk about their work as it continues to be relevant today and specially in these present times," she shares.
Ashvin E Rajagopalan, Director of Piramal Museum of Art, speaks about adapting to the digital space. "We are taking a lot of our programmes into a digital space but we are not going into the gimmicky spaces," he says.
 They have focused their online presence with the view of education, activities and programs for general audiences, museum community, artists, teachers and children. "When you are working from home, you want to feel like you are being useful, it is that aspect that we are trying to fulfil," he says.
They have uploaded past exhibitions on their website and have intriguing activities like, art, film and book reviews, Ask me Anything rounds  and Virtual Art, Nature and Heritage Walks, which take place online.
However, some art institutes are inundating people with a surfeit of digital content, which is, at times not well thought of and a lot of the content turns out to be mediocre. As a result, some museums choose to limit their content publication to two to three times a week.
When it comes to finances and government aid, cultural departments may not be too supportive towards museums in general because they have never been substantial revenue generating platforms, as they are subsidised.
Museums that are privately owned, such as Piramal Art Museum in Mumbai and MAP in Bangalore, are cushioned from this blow as they have cash reserves to maintain mechanisms beyond basic operations. Founder and Trustee of the Museum of Art & Photography (MAP), Abhishek Poddar extends his gratitude to their supporters. "A number of our patrons and donors have been flexible in allowing us to move certain restricted funding into non-restricted areas because they could see that we were going through certain challenges at this time," he says.
 MAP is a new museum that plans to delay their opening to next year, given the current cultural climate. They have been engaging their audience by focusing on education through downloadable resource packs called Discover MAP series, online webinars, and a collaboration with Google Arts & Culture. However, their recent project has been the creation of a global digital art collaborative, named 'Bouquet of Hope'.
The digital platform is also giving museums a relief since shows are being delayed everywhere. Rajagopalan does not want Piramal Museum's visitors to be affected by Covid-19. "We will not do any physical shows for at least six months. We will potentially extend that up to two years. A lot of exciting things, that we have been developing is going to go onto the digital space, and we are looking at communities and social spaces very differently," he says.
Kasturbhai Lalbhai is a private museum in Gujarat. Their trustee Jayshree Lalbhai says explains certain challenges. "We are a very young institute still grappling with establishing ourselves in the museum community," she says. "At the moment we are attempting to encourage young people to come to museums and for that we have special programmes and internships that encourage them to get involved with museums. How the general condition of the virus progresses will determine how we will conduct our interactions. I don't see much difference region wise, but yes as we are a smaller city than the main mega cities and therefore our audience differs."
Museums have always provided solitude to people and are a cultural symbol of any country. We hope that in these difficult times, digital platforms will be the saving grace that these institutes need, to maintain their audiences. After the pandemic ends, collaborative projects with other sectors or museums might be their way to go. Until then, we can all enjoy the array of free content that the museums are generously providing on their e-platforms.