A heart-to-heart with the 'prince of OTT '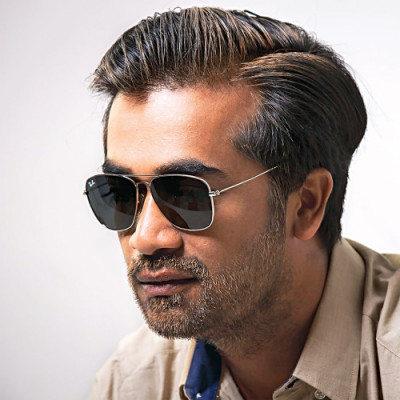 Celebrated actor Shamol Mawla started his career with theatre. Slowly making his way up, he rose to fame, traversing from small roles on television to critically appreciated performances in OTT projects.
In a candid chat with The Daily Star, the "Mohanagar" famed actor talks about his journey, and upcoming projects.
Born in Cumilla, Shamol moved to Shahbag in Dhaka quite early on, where he was familiarised to theatre by his father, Golam Mostafa. Following his father's footsteps, Shamol started working as a theatre artiste in 2006.
"I was introduced to acting by my father, who was deeply rooted into the world of theatre," he shares. "His passion and drive are tied to my aspirations in this profession."
While trying his luck in acting, the "Money Honey" star took up the role of Manik in "Sisimpur" in 2008. This role crafted his path to television in 2009 where he started with small roles, before portraying side characters and second lead roles.
"I used to be an extra in films. Giasuddin Selim gave me my first lead role in his production 'Rood' but the first project I shot for as a lead actor was "Love in Dhaka," mentions Shamol.
He also appeared in the anthology film, "Iti, Tomari Dhaka" (Sincerely Yours, Dhaka) one of the first two films to be on Netflix from Bangladesh.
The actor kept appearing in other television projects until he was approached by Tanim Noor and Krishnendu Chatterjee for the Hoichoi original crime-thriller "Money Honey".
"I always present myself in alignment with the director's vision," says Shamol. "I believe an actor should be mouldable, and that is exactly what I look to ensure."
He has built a strong appeal amongst audiences of OTT platforms with his impeccable performances in Hoichoi's "Mohanagar", Chorki's "Joar Bhata", "Bioscope's "Mood Swing" and the Zee5's "Herey Jabar Golpo".
Shamol Mawla is currently busy shooting for the Zee5 mega project "E Emon Porichoy". "This is what I will be busy with for the next six to eight months," he concludes.