Group exhibition 'Impression of Nature' underway at Zainul Gallery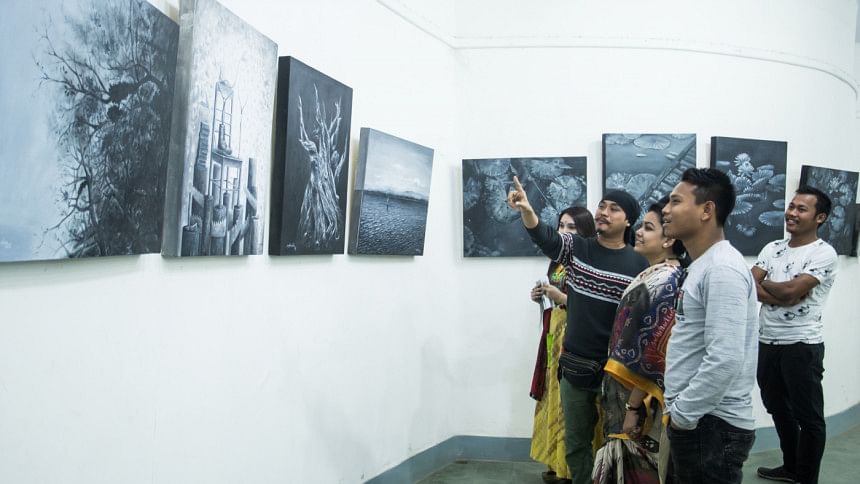 A group exhibition, titled Impression of Nature, is underway at Zainul Gallery, University of Dhaka (DU). Outdoor Community has organised the exhibition, featuring 21 painters, who, in protest of global warming, have portrayed different facets of nature. The six-day event, which runs every day from 10 am to 8 pm, will conclude on February 22. Deneb Zeenat Latif, Managing Director of Magnum Management Consulting Limited, inaugurated the show on February 17. 
Taslima Yasmin, an Assistant Professor of the Department of Law, DU and Doctoral Researcher at Brunel University, UK, and Ahsan Rony, Founder, Green Savers, attended the inaugural ceremony as guests.  Painter Sajia Rahman Sondha hosted the inaugural ceremony.
"We are destroying nature in different ways," said Deneb Zeenat Latif. "But this nature is our real canvas. The intensity of environmental pollution has increased so much that nature is not in balance. I believe the exhibition will play a significant role in countering environmental pollution."
On behalf of the Outdoor Community, Tanjima Tabassum Easha, a freelance artist, said, "We are bringing destruction upon ourselves. Nature is losing its colour, form and variety. Everyone needs to think about how they are contributing to the protection of the natural environment. We have organised this show to raise awareness about environmental issues."
Azmal Hossain, Dipro Bonik, Helal Shah and Khadiza Tun Numani are exhibiting their works at the event, alongside Khing Shai Marma, Liza Sharifa, Madhubanti Raya, Maneek Bonik, Marzan Kabir, Mohosin Kabir Himalay, Mrinal Banik, Nusrat Jahan Titly, Pritom Mozumder, Pradip Saha, Rajib Mahabub, Shaktimohito Subir, Seema Mandal, Sajia Rahman Sondha, Shakti Nomaan, Tanjima Tabassum Easha and Tariqul Islam Herok.