Fire not only burns, it also creates
Artist Rezaul Hoque's unique works under spotlight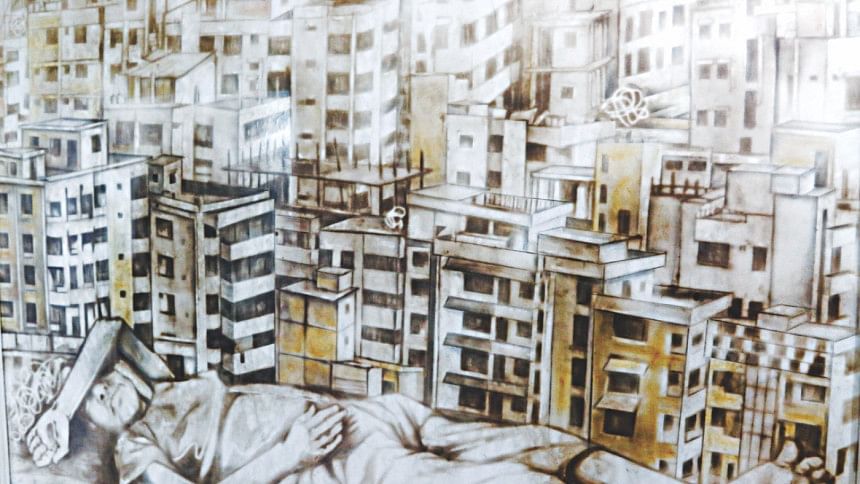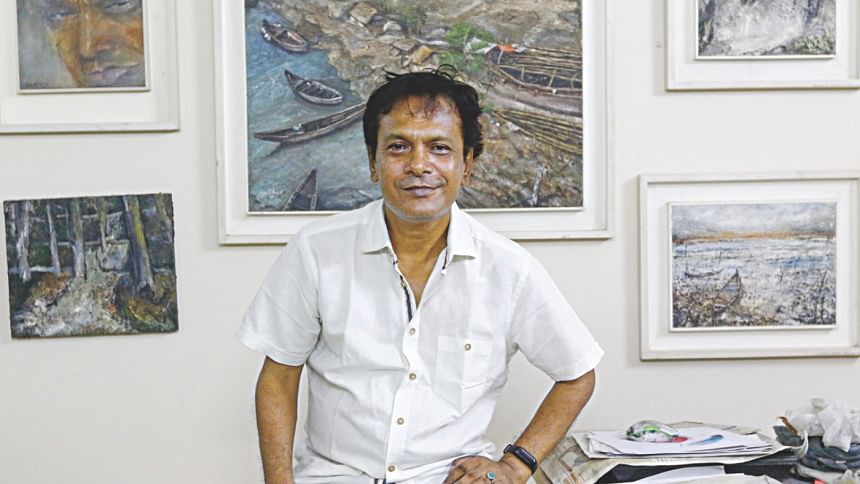 Dhaka-based artist Rezaul Hoque's art practice sheds light on creating surrealistic images. He has created a unique technique, called the 'burn process'. Reza feels that pain is the foundation of creation. According to him, sorrow that hurts the mind gives birth to new thoughts, ideas and creations. He creates paintings applying the principle of heat transfer through convection, serving almost as a metaphor for people who dream of an optimistic future. Thus, his work places a strong emphasis on creative drawing techniques.
"No one in the world paints with this process. In 1993, when I was a resident student at Shahnewaz Hall, University of Dhaka, one of my favourite drawings was accidentaly burnt by the heater," says the artist."Later, when I was closely looking at the burnt drawing, I found amazing colours and texture on it. Then, I tried to make paintings with the same process." Rezaul Hoque has been successfully creating paintings with his unique process and experimenting with multifarious colours. "When I took the processed work to Charukala (Now Faculty of Fine Art, University of Dhaka), almost everyone, including my teachers, students and my friends were amazed. The artworks were later showcased at the National Art Exhibition that year."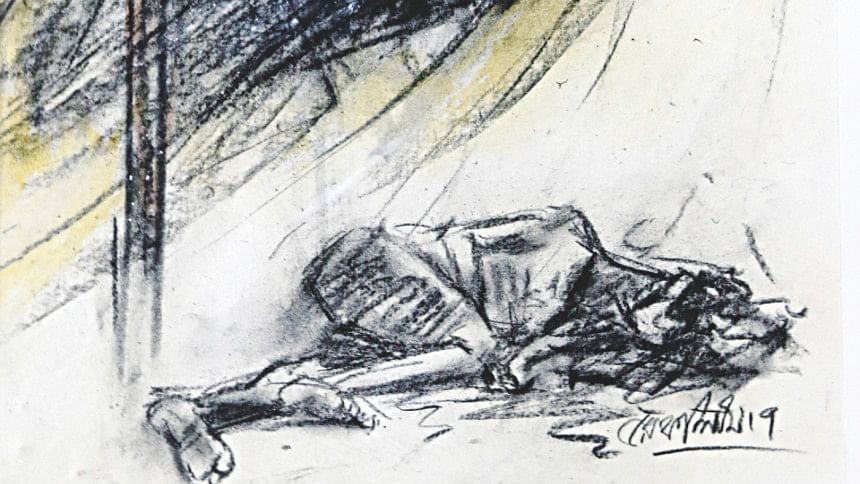 "Sometimes, I mix charcoal with hair colour, powder colour, acrylic with wax, watercolour, oil pastel, with burn process for getting various tonal gradation and tastes with the electric stove's heat consumption principle," added the artist.
Reza's paintings are aesthetically pleasing and thought provoking. His first solo art exhibition was inaugurated at his home town by the then Kurigram Deputy Commissioner in 1988, while his second solo art exhibition was inaugurated at the High Commission of India in Dhaka by eminent artist Rafiqun Nabi in 2002. The fine drawings at his second solo show were sold like hot cakes, yet he declines to continue the repetitive works. "I feel disinterested to display the same type of works that were showcased in my previous solo exhibitions," he said.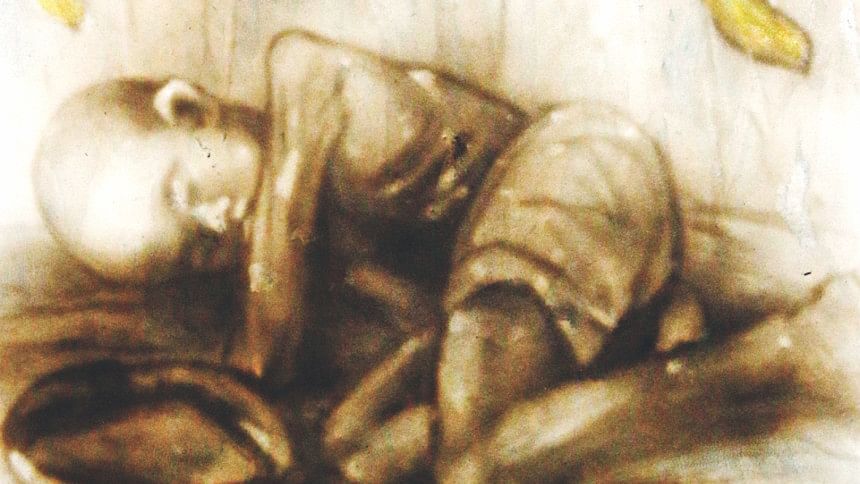 "The expressions of the works have been relayed with forms. I never exhibited the same works twice. Art is not business to me. Many will find birds eye view, 3-D image, sketches of daily lives, self of a perception, fragmented limbs, torso, birds and other imageries in my paintings," said the painter.
"This is a unique media, in which I have been working for the last 26 years. It took 225 hours to complete one of my largest paintings, titled Living on the Edge of Civilization. I hope to hold my next solo exhibitions in Bangladesh and abroad," said Rezaul Hoque, who is also a cultural activist.
Reza participated in many prestigious group art exhibitions including the Asian Art Biennale Bangladesh. He attended a five-day drawing and painting workshop on "Post Modern Art", organised by New York Academy of Art in New York, USA in 2014. He also attended a five-day global conference, organised by International Reading Association (IRA) in Chicago, USA in 2012.
He studied at the College of Fine Arts, Rajshahi University, and subsequently at the Institute of Fine Arts, University of Dhaka. Trained under renowned Bangladeshi artists-professors -- Qayyum Chowdhury, Samarjit Roy Choudhury and Mohammad Eunus, he has also worked with acclaimed figurative artist Alyssa Monks, of the New York Academy of Art, USA. Aside from painting, Reza has developed illustration-based communication material for the development sector, where the subject matter mostly revolves around issues of poverty and violence against women.
The artist was born in Kurigram, one the poorest districts of Bangladesh at a time when people died of hunger and lack of medical services. Despite destitution, he felt that the simple and honest people of his district faced these challenges with unfaltering resolve and confidence, with dreams of a beautiful life. Reza grew up around the suffering, and the concurrent strength of the people are often depicted through his paintings. Inspired from the experiences of his childhood, he focuses on the emotions of humans in his paintings. The artist aims to communicate through his images delineating strength and dreams, and not the abjectness of the people.