Dhaka International Folk Fest 2019 to open on November 14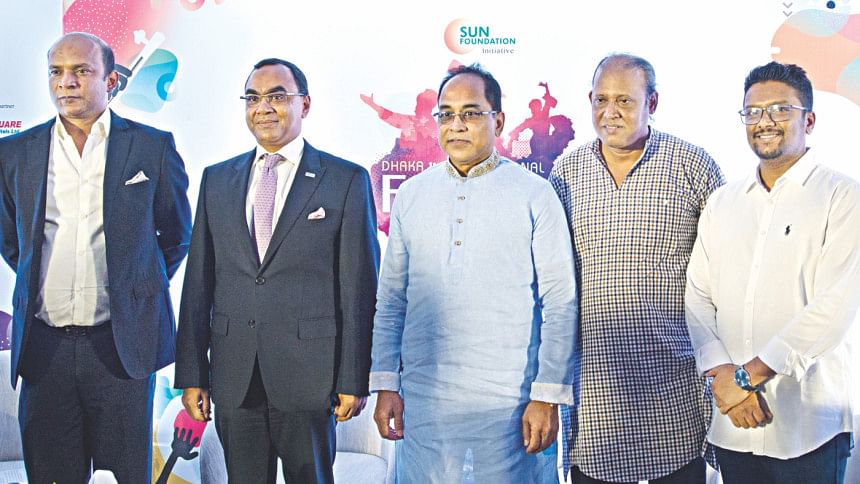 Like previous years, the fifth edition of the Dhaka International Folk Fest (DIFF) will have a myriad of Bangladeshi and international folk artistes in one platform. The festival will take place from November 14 to 16 at Bangladesh Army Stadium, every day from 6 pm to midnight. Initiated by Sun Foundation, the festival will be televised live on Maasranga Television, the event's television broadcast partner.
A press conference was held at Four Points by Sheraton yesterday to make the formal announcement of this year's festival. Anjan Chowdhury, Chairman of Sun Foundation and Sun Communications Limited, Syed Mahbubur Rahman, CEO and Managing Director of Dhaka Bank Limited, Malik M Sayeed, Head of Operations of Square Toiletries Limited and folk legend and music researcher Fakir Shahabuddin were present at the conference. They spoke about the importance of preserving the rich cultural heritage of our folk music. Tanvir Hossain, Group Creative Director, Sun Communications Limited, was also present.
This year, more than 200 artistes from six countries across the globe, including Bangladesh, will participate in the event. Shah Alam Sarkar, Fakir Shahabuddin, Chandana Majumdar, Kajol Dewan, Malek Kawal, along with Kamruzzaman Rabbi, Shafikul Islam and Bhabna Nritya Dol from Bangladesh will perform. Daler Mehndi from India, Junoon and Hina Nasrullah from Pakistan, Sattuma from Russia, Chveneburebi from Georgia, Habib Koité & Bamada from Mali will also join to celebrate the spirit of folk music at the festival.
The registration process for the festival, which is free of cost, will start from November 6. For registration, please visit www.dhakainternationalfolkfest.com. After completing the registration, three different entry passes for each day of the festival will be sent to the interested attendees via email. More updates on the event can be found on the official Facebook page of the Dhaka International Folk Fest. For more details about the registration process, please dial 16374.
The title sponsor of DIFF 2019 is Meril. It is powered by Dhaka Bank Limited and supported by Radhuni. Other partners of the event include: Dmoney, Shohoz, Aegis Security Force, Square Hospitals Limited, Four Points by Sheraton, Radio Din Raat, Guardian Life Insurance, Mediacom and Sun Communications Limited.