Bangladeshi start-up Cassetex wins first prize in ClimateLaunchpad 2020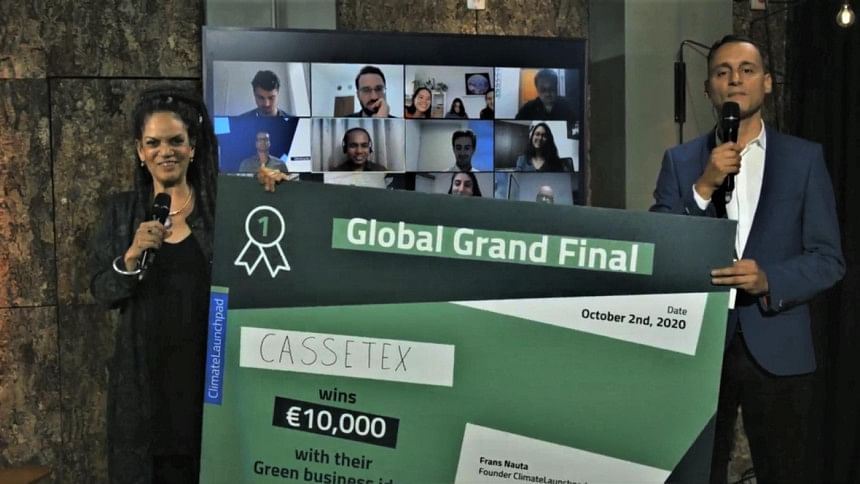 The green start-up Cassetex from Bangladesh won the first prize in the seventh edition of ClimateLaunchpad 2020, a global green business ideas competition which awards the world's most innovative climate entrepreneurs. Bangladeshi social enterprise Gen Lab introduced ClimateLaunchpad in Bangladesh for the first time this year and after a three months long selection process, the best three teams were selected for the global stage. World Champion Cassetex from Bangladesh, received 10000 Euro in cash award and one-year long incubation support from Climate-KIC, EIT.
Cassetex is a solar-powered battery swapping service for electric 3-wheelers in Bangladesh. It is a project of Advanced Dynamics Limited, an electric vehicle manufacturing company in Bangladesh.
The Cassetex team hopes to transition more than one million vehicles and save 0.47 megaton of CO2 per year. Cassetex offers solar charged battery cassettes which can be exchanged for a new cassette to continue running the vehicle. Battery swapping is considered a pillar of transport electrification, and by adding 100 percent solar energy to it, the system can be made completely off-grid and independent of fossil fuels. Cassetex believes that the electric 3-wheeler industry will no longer have to depend on the national grid, as this will also help the government prioritise energy distribution to other important applications. The Cassetex team hopes to quickly expand their coverage to all cities across Bangladesh in the next 3 years.
"Being amongst the top start-ups in the world is a tremendous recognition for Cassetex and Bangladesh," shares Gopal Kumar Mohoto, Co-Founder and CTO of Cassetex. "We are humbled by this award, and we hope it will help us solve the critical challenges in the transport sector in Bangladesh."
"This is definitely a grand achievement in terms of our green startup movement of the country and we are immensely happy to witness our team winning the champion award from such a prestigious global platform," expresses Ratul Dev, Country Lead, ClimateLaunchpad in Bangladesh, Bhutan & Myanmar and Executive Director of Gen Lab. Gen Lab is a youth-led social enterprise dedicated to creating a platform for youth to engage in the social development process of their locality.



In an opening video, Virginijus Sinkevičius, European Commissioner for Environment, Oceans and Fisheries, Rowan Barnett, Head of Google's philanthropy Google.org EMEA and APAC, and David Pistoni, Co-Founder of Spanish hyperloop company Zeleros participated in a discussion with EIT Climate-KIC's CEO Kirsten Dunlop on how to harness the power of technology, systems innovation, and entrepreneurship to accelerate the green recovery.
"The competition shows how many entrepreneurs have the expertise, the ingenuity and the dedication to help us tackle the biggest climate challenges," shares Kirsten Dunlop. "ClimateLaunchpad offers green entrepreneurs from all around the world a chance to transform their best ideas into a company, a product, and jobs for people in their community."
This year's global climate competition took place online from September 30 to October 2. More than 3,000 entrepreneurs from 56 countries participated in ClimateLaunchpad 2020. Winning teams of National and Regional Finals were invited to compete in the Global Grand Final, resulting in 68 teams pitching in front of expert jury panel this week.
ClimateLaunchpad winners were chosen by an international jury that looked at the business potential of the finalists' ideas as well as their social impacts, job creations, climate impacts and the quality of their pitches. They were categorised in eight main themes: Resilient Regions, Climate-Friendly Food, Healthy Clean Cities, Circular Economies, Clean Energy Systems, Sustainable Mobility, Cleantech, and The Next Big Thing.