Annual Bonsai Exhibition opens at WVA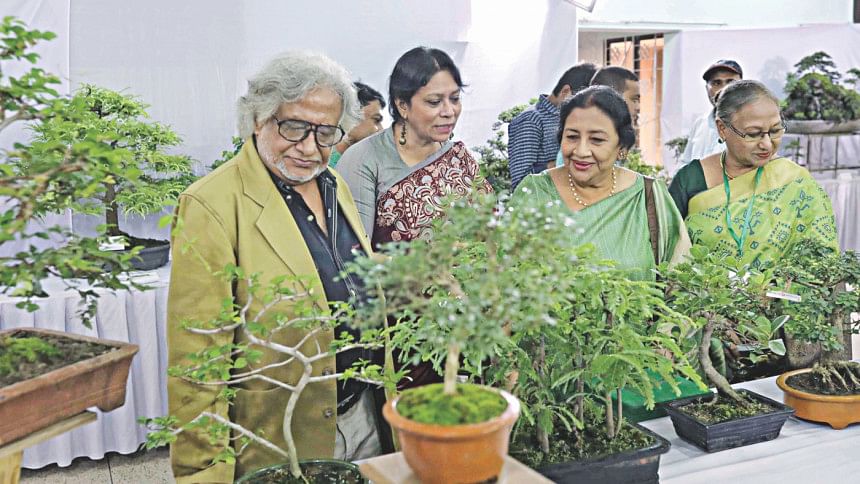 The 21st Annual Bonsai Exhibition, organised by Bangladesh Bonsai Society, opened yesterday at the Women's Voluntary Association (WVA) Auditorium in Dhanmondi, Dhaka.
Internationally acclaimed Bangladeshi artist Monirul Islam was present at the event as the chief guest. He inaugurated the exhibition. Mai Tomori, Head of Public Affairs, Embassy of Japan in Bangladesh, attended the inaugural ceremony as the guest of honour, and Md Almasur Rahman, Trainer, International Chess Federation (FIDE), was present as the special guest.
Over 3000 different bonsai plants by 45 bonsai artistes from all around the country are showcased at the exhibition. Miniature models of Ficus, Bougain Villa, Mohua, Tamarind, Pakur, Water Jasmine, and Chinese Elm, with many other Bonsai plants are on display. The bonsai styles are: cascade, informal upright, twin trunk, slanting, root-over-rock, and penjing.
Rizwan Samad's Mountain Landscape, comprised of a Fukein Tea bonsai, Lilliput Premna, and a mini Earn bonsai is conjoined in harmony by a waterfall.  It is a treat to the eyes. Salahuddin Ahmed's Swirling Bawbub, with its root resembling a cyclone, is also an interesting piece. Borhan Hossain Kakul's Formal Upright is one of the notable plants at the show. The root-over-rock bonsais are also exquisite.
The exhibition is open to all till September 29.