Reflecting on Runa
Contemporaries share thoughts on the icon's 50 years in melody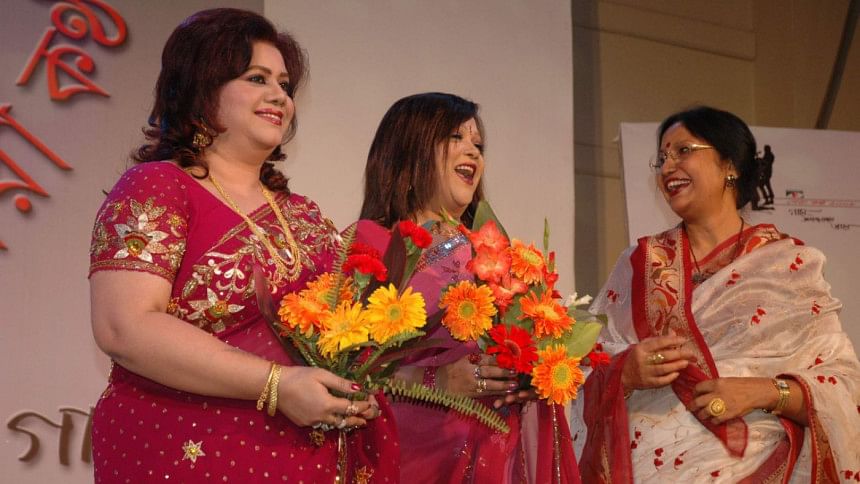 Runa Laila, an iconic figure not only in Bangla music but the musical scene of South Asia, celebrates the Golden Jubilee of her career with a concert today at the Bangabandhu International Conference Centre, also featuring Indian playback singer KK and Pakistan-based actor-singer Fawad Khan. Marking her glorious landmark, her contemporaries in the music scene shared their views on her work and career with The Daily Star.
Ferdausi Rahman, singer
I was a regular performing artiste when Runa was just a blooming flower; we have performed on the same stage many times, and throughout the decades, she has blossomed into a beautiful flower.
When she decided to come back to Bangladesh, I was very happy; some people were perhaps not, but I think they also realised eventually what an asset she is to Bangla music.
She has left her mark beyond the boundaries of this country -- something not many artistes have been able to do. As a listener, I am very proud of her, and I hope and pray to Allah that she continues to sing beautifully for years to come.
Sheikh Sadi Khan, composer
The reason why Runa Laila became who she is today, and served our music industry for so long, is because she came prepared; her foundation was strong, so she could build on it.
Her training allowed her to sing various types of songs, and express herself through it.
She has worked with some of the greatest musicians of this part of the world, which was an invaluable experience for her.
She is an incredible musical talent, and has the rare quality to pick up songs on the spot and express the right emotions in it. Today's singers have a great role model in her.
Alauddin Ali, composer
I was fortunate to have worked with an artiste of such international repute. I have worked with Runa Laila for a long time; we worked for films and recorded from HMV.
Also we received accolades from Kolkata along with other great artistes like Lata Mangeshkar, Asha Bhosle, Salil Chowdhury and Bhupen Hazarika.
It always felt great to be around a great singer like her. I learned many things from her. She is an inspiration to many.
Anup Bhattacharya, singer-composer
I have always lamented the fact that we could never utilise an artiste of Runa Laila's stature to the full potential.
Maybe it was our limitations, maybe something else; I don't know.
The biggest hits of hers that you hear today – are not all songs of her level. She is an artiste of great heights, who has an immense range and diversity.
She has rightly left her impression all over this subcontinent, and deserves great honours.
Emon Saha, composer
I have had the opportunity to work with Runa apa for a long time, as I used to be keyboardist of her band during the initial part of my career.
Despite being the legendary singer that she is, Runa apa has always been very supportive and I got to learn a lot of things from her.
I learned from her that being a good human being is the first prerequisite for being a good artiste. I also did music direction for her solo album, and collaborated with her in films.
She is very close to her co-artistes. I am so happy that Runa apa is celebrating 50 years of singing. I wish she continues singing for many more years to come.