Rediscovering the self through music
Three-day Lalon festival begins in Kushtia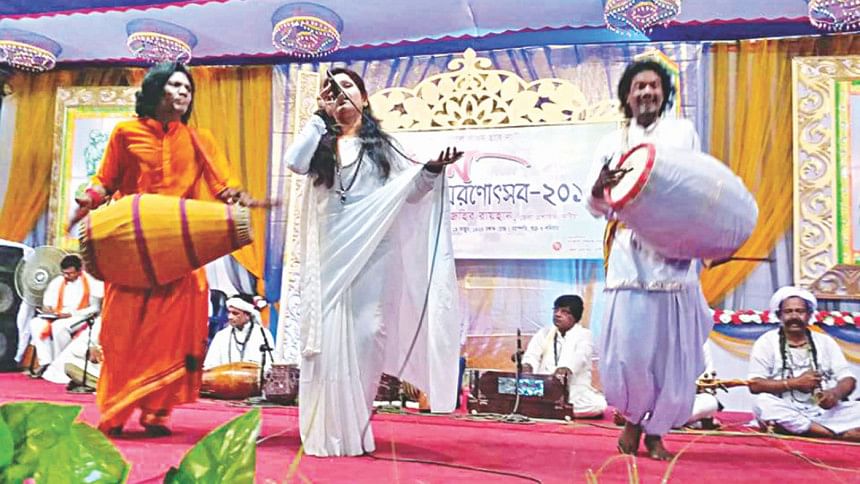 "I come to Lalon shrine to hear the Baul songs which gives a divine purity in my mind and soul," said Robiul Islam, sitting right at the front of main stage at around midnight on the opening day of the three-day Lalon memorial festival, popularly known as Dol Purnima Utshab in Kushtia. The annual celebration at mystic bard Lalon Shah's mausoleum opened on Thursday evening.
"These songs have the power to transform a person's feelings from one state to another. We can discover ourselves here," Robiul said.
Like Robiul Islam, people of different walks of life, from every caste and creed gathered at the programme to enjoy the music. .
Baul music is a traditional folk genre of Bengal, which is a mix of influences from the Vaishnav Bhakti movement - a Hindu religious movement from the pre-medieval era - and Sufi influence from Islam. The songs celebrate celestial love imbibing the philosophies of both Hindu and Sufi Islam.
Fakir Lalon Shah was one of the major Bauls who elevated the genre to great spiritual heights, and is considered as the greatest forerunner and exponent of this unique culture and tradition. Lalon, who had no formal education, wrote around 2000 songs in his lifetime, of which some 800-1000 have been preserved.
Many facets of his life are debated and contested, including the religious identity of his parents. Lalon himself chose never to speak about his life and belief. According to experts, Lalon envisioned a society devoid of gender discrimination, a liberal society for women where they had the opportunity to pursue their spiritual freedom as a priority.
"Lalon's songs embrace and preach oneness of all religion into humanism, universal brotherhood and also gender equality. It's just like an estuary where different rivers meet and merge into the sea of oneness that is deeper, richer and more liberated," said Dr. Masud Rahman, a Lalon researcher also Associate Professor of Bangla Department at Kushtia Government Girls College.
Around one lakh people are expected to come to the shrine in the three-day programme.