Port City captivated by the violin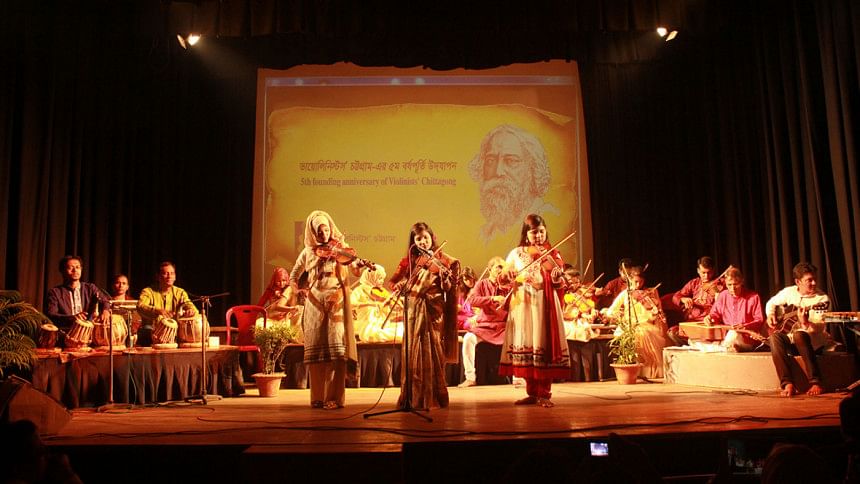 Music enthusiasts in Chittagong city enjoyed a special evening on Friday, as they were mesmerised by the excellent performance of a bunch of talented violin players at Theatre Institute Chittagong.
The overflowed auditorium remained in pin-drop silence during the two and a half hour performance that started around 6.30pm. A total of sixteen violinists performed in the programme, organised by Violinists Chittagong, an organisation of violin players in the port city, on the occasion of the organisation's fifth founding anniversary.
The evening started with the chorus performance with raga Adana and raga Durga.
Sandipan Das, a physician by profession, was greeted with a big round of applause by the audience. He captivated the audience through his presentation in raga Pahadi.
Engineer Shayan Chandra Das performed raga Shivranjani and Homaira Afriem Momo performed raga Malkauns. Both the youngsters drew special attention from the audience through their superb performances.
Nabila Nusrat performed a Rabindra Sangeet "Jagorone Jaye Bivabori" while Parna Barua performed "Amar Praner Manush".
When Tanmoy Sarkar, a physician, finished his performance of a Rabindra Sangeet "Koto Baro Bhebechinu Apona Bhulia", audience greeted him a big applause.
Swarbithi Barua, another physician, performed "Danriye Achho Tumi Amar Gaaner Oparey" and Parag Mutsuddi performed "Biroho Modhur Holo Aji".
Falguni Barman performed a dance with a folk song. Raonak Ibtisama Chowdhury performed "O Re Nil Doriya" while Anila Naoshin Mahita performed "Nishi Raat Banka Chand Akashe", Shakila Parvin performed "Ami Rajani Gondha Phooler Moto" and Rahela Rizwana Chowdhury Urmi performed "Akash Eto Meghla Jeo NaTo Ekla."
The programme ended with a chorus performance of raga Hamir. Eminent guitarist of Chittagong Babul Kanti Dey was accorded reception in the programme.
Writer Ferdous Ara Alim was present as the chief guest while Swarnamoy Chakroborty, general secretary of Sadarang Uchchango Sangeet Parishad, and Shaibal Chowdhury, director of Chittagong Film Centre, were present as the special guests with Samar Kanti Barua in the chair.