Simon Thacker's 'Svara-Kanti: Trikala' under spotlight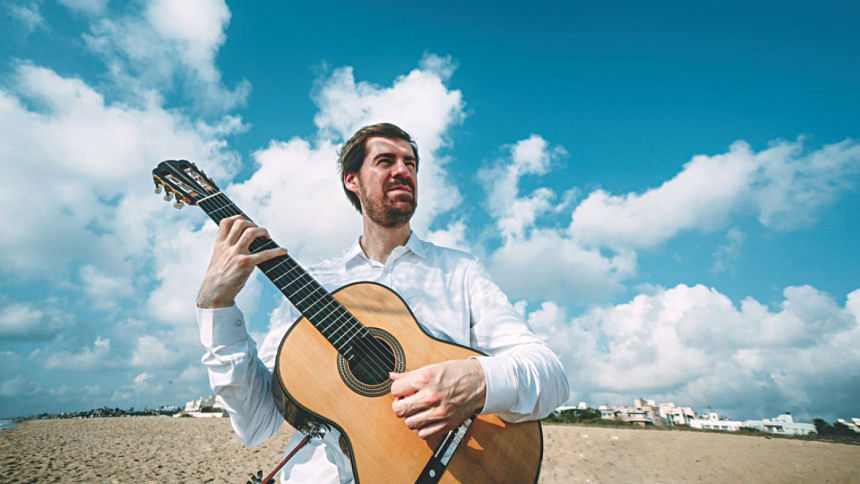 Renowned Scottish classical guitarist and composer Simon Thacker and his ensemble Simon Thacker's Svara-Kanti swayed Dhaka's music lovers in the Dhaka International Folk Fest in 2016.  They have performed for an audience of 60,000 in Dhaka and at The Sacred Pushkar, one of the region's biggest sacred music festivals.
Simon has recently released a double album (2 full length CDs with a 40 page booklet) which features 13 of the greatest music genres ranging from Bangladeshi Baul,  Hindustani and Carnatic classical, Western classical to Punjabi folk music.
The CD 1 includes tracks like Panchajanya, Ajj Koi Saade Vehre Aaya, The Fire of Intention and Vande Mataram, while CD 2 features songs like Helaye Helaye Din Boye Jaye, Tomra Kunjo Sajao Go, Bhromor Koio Giya, Dhonyo Dhonyo Boli Tare, Menoka Mathay Dilo Ghomta and Ekla Chalo Rey. 
There are several tracks featuring Bangladeshi folk singer Farida Yesmin. The second CD of Trikala is dedicated to Simon's transformation of songs by Lalon, Radharaman, Shah Abdul Karim and Tagore. He does not see these as fusion but an organic extension of the tradition that he loves. This album has been acclaimed across the world, bringing these songs, and of course, Farida, to new audiences.
Created and recorded over three years, at East Lothian in Scotland, and Chennai and Kolkata in India, Simon's third release claims to create new sound realms in the epic double album, Trikala, the Sanskrit word representing the three tenses of time, the past, present and future. 
The intercultural collaboration features Simon Thacker (classical guitar), Raju Das Baul (voice, khomok), Sunayana Ghosh (tabla), KV Gopalakrishnan (kanjira), N Guruprasad (ghatam), Justyna Jablonska (cello), Japjit Kaur (voice), Afsana Khan (voice), Sarvar Sabri (tabla), Jacqueline Shave (violin), Sukhvinder Singh Pinky (tabla), Neyveli B Venkatesh (mridangam) and Farida Yesmin (voice).
Trikala sees Simon Thacker's Svara-Kanti metamorphose into a community of different lineups which each take inspiration from four different aspects of the vast musical macrocosm that exists in the Indian subcontinent. There is also a major solo work with a tangential Tamil inspiration, one of Rabindranath Tagore's best loved melodies re-imagined and a moving transformation of India's National Anthem.
Unity comes from Thacker, as the single compositional voice that has either created or recreated all of the work on both albums, and the symbiotic relationship between the performers who, whether in the most breathtakingly intricate composition and intuitive improvisation, search for truth and essence selflessly together. Ancient forms are refracted in the present to propel them forward to the future, travelling beyond East and West to genuinely create a third direction genuinely of itself. Traversing over 2 hours and 18 minutes of some of the most advanced inter-cultural music ever recorded, Trikala is a pivotal moment in the history of Indo-Western collaborations.