Mahadi Faisal A sporadic yet splendid musician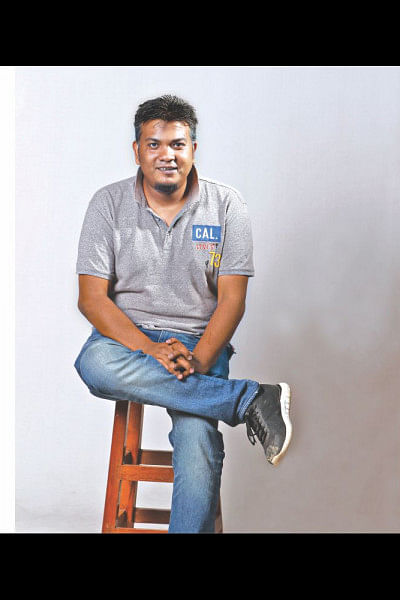 Mahadi Faisal had a knack for music from a very young age. He is a proud participant of Notun Kuri, a reality competition series for children that aired on Bangladesh Television (BTV), way before such shows were all the rage. As he grew older, life took a different turn for him and he steadily drifted further apart from his musical endeavours.
However, the flair reignited once again in 2005, as he prepared to participate in yet another musical reality show, Close Up-1. As the show progressed, Mahadi began to prove his prowess and garnered much admiration form the viewers. In no time, the talented artiste had a devoted fan base. "I made it to the top 10 amongst thousands of participants in the competition," expressed Mahadi. "Not only did the show help me reconnect with my zeal, but it also taught me a lot."
From then onwards, Mahadi maintained his ties with his passion for music. He launched his first album, titled Bondona in 2007, under the banner of Gaanchill Music. The lyrics of the album were penned by Asif Iqbal while Prince Mahmud tuned the tracks. Following his devotion for music, he went on to release more albums, including the likes of Antohin, a duet with Elita Karim, Onnorokom and others. Given the fact that Antohin captured the hearts of numerous listeners with its melodious numbers, the duo released another album titled Antohin 2. Apart from his albums, Mahadi also lent his voice for several mixed projects, live shows and singles. His latest single was with renowned musician Minar, titled Keu Bojhe Toh Keu Bojhe Na.
As of now, the artiste is engrossed in the pursuit of his professional career. Serving as the Head of Business in a distinguished private organisation, Mahadi is dedicated to his corporate career to bring about positive changes to his related field, the agro sector. Despite the busy lifestyle, the artiste continues to nurture his essence for music. "Given the workload I'm dealing with, this Eid, I will not be able to deliver any musical piece for my fans unfortunately," informed Mahadi. "However, music lovers can look forward to my upcoming single during Eid-ul-Adha."