National Gambhira Festival ends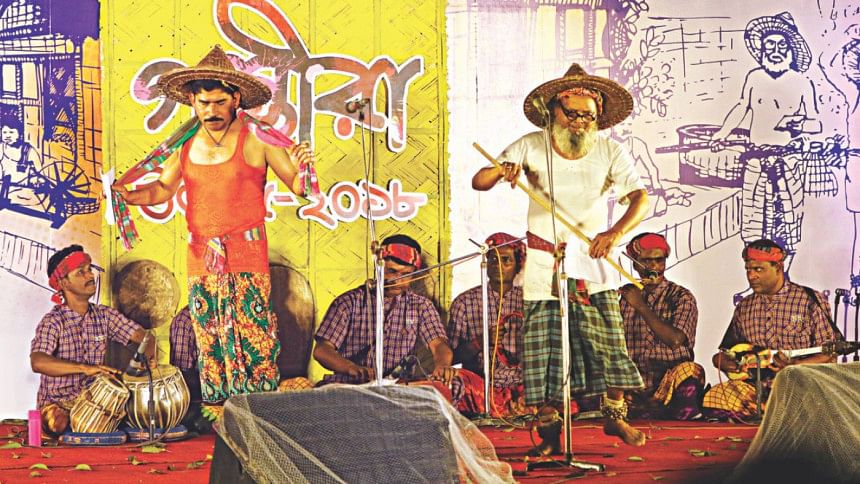 A two-day National Gambhira Festival began on Friday (February 23) at Bakultala of Charukala (Faculty of Fine Arts), Dhaka University. Chapai Nawabganj-based cultural organisation Diar, who have been working to promote folk genres such as Gambhira and Alkap, held the festival for the second time.
Rakib Uddin and Kutubul Alam, a unique pair popularised Gambhira by their performances. Rakib Uddin's daughter Rajina Aktar Rita and Kutubul Alam's son Shujatul Alam Kallol were invited to speak at the event. Inaugurated by ATM Fazle Kabir, member, Law Commission, the programme began with a speech by Anwar Hoque the secretary of Diar who said that the organisation will effectively work on for the revival of Gambhira and other folk genres of music. Prof. Momtaz Uddin Ahmed launched a publication of Diar.
In all, 10 Gambhira troupes are performing at the festival. Five groups of the first day were - Chapai Gambhira, Lok Gambhira, Sangeeta Chapai Gambhira, Nabab Gambhira and Roshkosh Gambhira. The other five teams, who performed yesterday, were Proyash Folk Theatre Institute, Chapai Nakshi Gambhira, Bholahaat, Adi Gambhira and Surya Diganta Gambhira.
Speakers underpinned the necessity of working for the revival of Gambhira and other traditional folk genres. Poet Apel Abdullah said, "Diar is committed to give Gambhira and other folk genres a strong platform." Mokhlesur Rahman Mukul, the president of Diar, said that Gambhira centres on a unique style and its objective is to satire the social dogmas.
Gambhira has characteristics of a comic conversation between a grandson and his maternal grandfather, accompanied by songs of a specific pattern in a local dialect and folk get-up, all with an objective of satire against social irregularities. Very often the grandson has a name 'Gudha' who has an obsession of getting married whereas the grandfather tries to resist that, resulting in a ripple of laughter. They carry on attacking a certain social taboo, or raising awareness for some specific cause.
A group of musicians and singers sit behind, supporting the nana-nati pair with vocal and typical music accompaniment such as harmonium, tabla, dotara, banshi (bamboo flute) and mandira.
Originated in Malda of India as a Hindu ritual song and later transformed as a satirical folk performance in Chapai Nawabganj district by active influence of a cultural worker namely Sufi Master, Gambhira is now a well-reputed folk genre of music in Bangladesh especially in the north-western part, and one of the most popular forms of Bangladesh folk music.
The author is a freelance contributor to The Daily Star.