Mustafa Zaman Abbasi's 80th birthday celebrated at BNM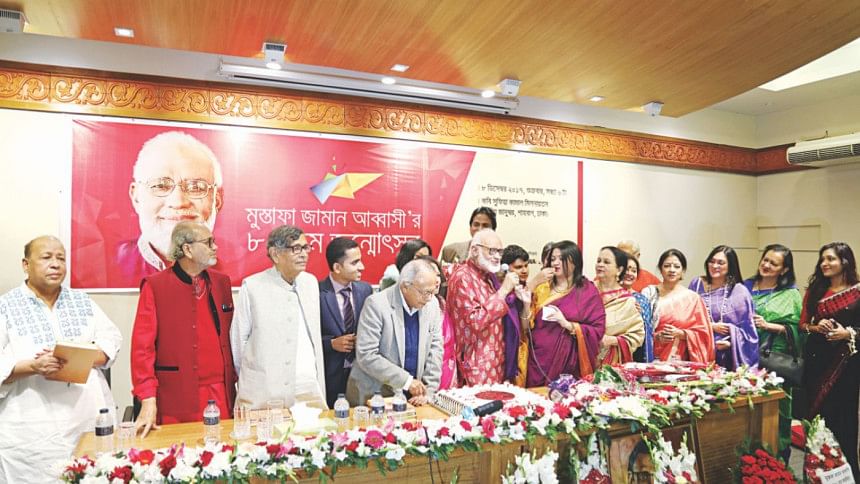 Ekushey Padak-winning musicologist Mustafa Zaman Abbasi celebrated his 80th birthday on December 8. To mark the occasion, Kathpencil Shahitya Sangsad organised an event at Bangladesh National Museum's Begum Sufia Kamal Auditorium on the day. The evening saw an impressive audience turnout where distinguished guests came forward to pay their respects to the celebrated artiste. The event also launched an anthological publication of his works, titled "Urilo Shonar Payra".
Professor Abdullah Abu Sayeed was invited as chief guest while Professor Emeritus Rafiqul Islam presided over the event. The auditorium became home to a jovial and lively atmosphere as notable members of the country came forward to greet Mustafa Zaman Abbasi, bearing bouquets and gifts. Welcome addresses were delivered by Ali Imam, Al Mujahidi, Faridur Reza Sagar, Asma Abbasi, Shaheen Samad and Sharmini Abbasi.
Abbasi's daughter Sharmini Abbasi delivered a poignant speech on the values instilled within her life because of her father, and regaled the audience with stories of growing up in the Abbasi household. "My aunt, Ferdousi Rahman, who is unable to be here today due to health reasons, always told me her best friend was her father, Abbasuddin Ahmed. And now I can proudly state that my father is my best friend and confidante," she said.
Managing Director of Channel i and Impress Telefilm Faridur Reza Sagar stated, "It is unbelievable to me that we are here together celebrating my dear acquaintance's 80th birthday. Mustafa Zaman Abbasi and I are close friends, and I see him on a regular basis, and it is difficult to fathom how quickly time has passed by."
Professor Emeritus Rafiqul Islam stated, "This family is one of a kind. Abbasuddin Ahmed began an important musical tradition among Bengalee Muslims, a legacy that has been carried forward for generations by his family. There is no other family in the country where such heights of greatness have been achieved across generations."
Chief guest Professor Abdullah Abu Sayeed rounded off the event with a humorous speech saying, "I liken Mustafa Zaman Abbasi to a tree with strong roots, weathering through many events over the years and prevailing. There are not many who have been able to reach his height."
The programme was followed by musical performances by renowned and popular singers including Shaheen Samad, Fatema Tuz Zohra, Indramohon Rajbongshi, Nasheed Kamal, Kiron Chandra Roy, Abu Bakr Siddique, Zahir Alim, Nurjahan Alim and Azgar Alim.  A huge birthday cake was brought out and cut during the programme's conclusion.