Music of the roots
Dhaka Int'l Folk Fest opens buoyantly
A filled-to-the-brim audience at the capital's Army Stadium enjoyed an assortment of folk music on Thursday, as the Dhaka International Folk Festival 2015 – presented by Meril - opened its doors. Musicians from Bangladesh, India and Pakistan took the stage to present some beautiful melodies and philosophies at a fantastic platform, but there was room for improvements. 
Pallavi Dance Theatre opened the three-day festival with a collage of folk dance styles from various parts of the country, before noted Lalon exponent Farida Parveen set the tone for the evening with three popular Lalon songs, "Parey Loye Jao Amaye", "Milon Hobey Koto Diney" and "Somoy Gele". 
Finance Minister AMA Muhith, Square Group MD Anjan Chowdhury and eminent singer Ferdausi Rahman then took part in the formal inauguration.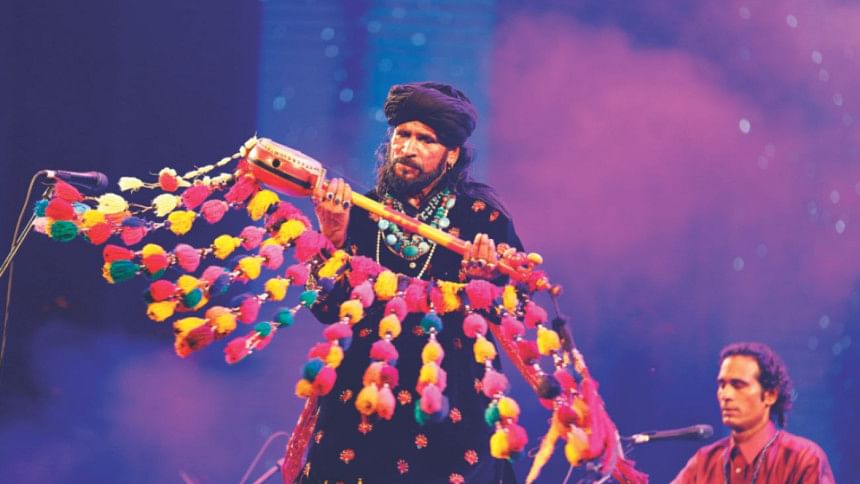 Chandana Majumdar, next on cue, presented a song each by Lalon, Shah Abdul Karim and Radharaman Dutta in quick succession, followed by Kiran Chandra Roy presenting a few folk numbers of his choice, including a rather unusual "Bhalo Achi Bhalo Theko". 
Arko Mukherjee Collective (from Kolkata) read the pulse of the jam-packed audience brilliantly, and in a simplistic arrangement of a cajon, a dotara and a ukulele (along with a kazoo, a small brass instrument), presented a strangely lengthy set, characterised by blending of various folk inspirations from around the world – from Bengal to the various Indian regions to European gypsy and Middle-Eastern melodies. With Satyaki Banerjee and later with his band Fiddler's Green, he got the audience on their feet.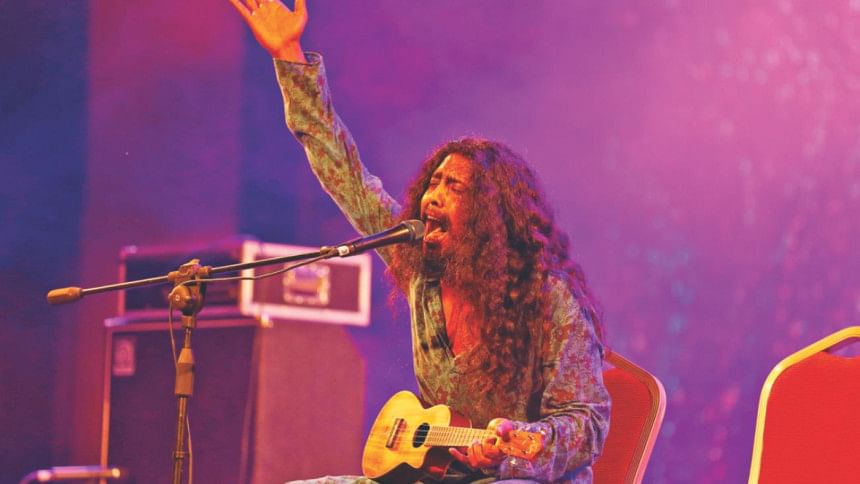 Rob Fakir and Shafi Mondal, two of the most respected Lalon musicians of the country, took stage next, accompanied by Labik Kamal Gaurob. After the two senior artistes had presented two beautiful contemplative Lalon songs, and Labik presented two, the two emcees of the event inexplicably interrupted them on stage, saying their time was up. Despite requests from the audience, the troupe were handed the festival memento without any further performance. 
Saieen Zahoor, the revered Pakistani Sufi singer, was also accommodated time for only three songs, but he displayed his brand of raspy vocals cracking at the edges, colourful stage presence and the beautiful essence of Sufi music, with songs like "Aik Alif" (by Bulleh Shah) and "Allah Hoo". 
Papon and the East India Company were the last performers, and they took the audience on a joyride with their very contemporary musical arrangement of Assamese, Punjabi and other folksy songs. The energy of the troupe resembled more of a rock concert than a folk festival, but the audience did not seem to mind. 
While arrangements including food, refreshments and amenities were plentiful, mismanagement and flaws here and there left some attendees with a sour taste in the mouth. The sound output, especially at far end of the stadium, was dampened. Many in the audience also complained that while bags were not allowed at the venue, it was announced later in the evening, putting some early attendees in trouble. 
Photos: Sheikh Mehedi Morshed
---
PERFORMING TODAY AT DHAKA INTERNATIONAL FOLK FESTIVAL 
JOLER GAAN (BANGLADESH)
Joler Gaan, the multi-instrument folksy band of a group of lovable eccentrics has seen a meteoric rise in popularity in the last few years, among listeners of all tastes. Their styles of simplistic music with great lyrical depth and innovative arrangements with a wide range of acoustic instruments have made them the darlings of urban folk scene of Bangladesh. Their two albums have been instant hits, but their true fandom lies in their theatrical, engaging live performances.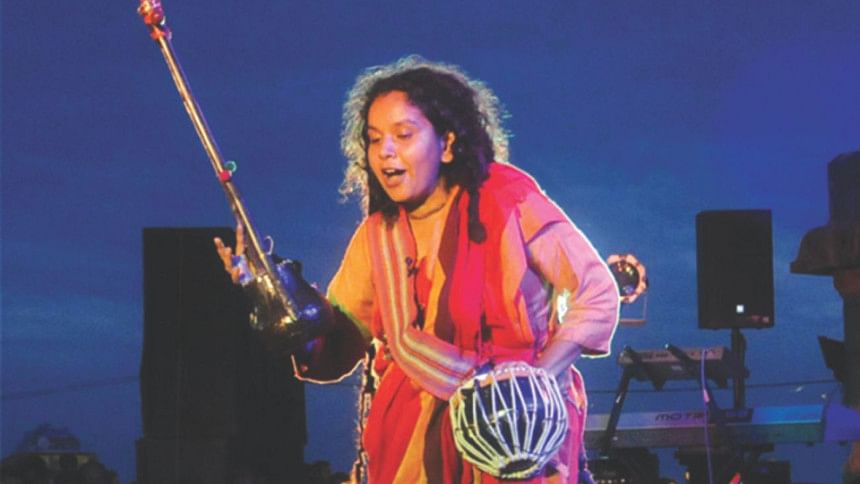 PARVATHY BAUL (INDIA)
Parvathy Baul is a singer, painter and storyteller from West Bengal. After receiving her initial music and dance training during her childhood, she studied visual arts at the Kala Bhavan at Shantiniketan. Her encounter with philosophy of bauls prompted her to choose the path of self-training rather than an institutional degree. Trained under eminent baul gurus of West Bengal, she has been performing both in India and other countries since 1995.
ABIDA PARVEEN (PAKISTAN)
Abida Parveen is a Pakistani singer of Sindhi descent and one of the foremost exponents of Sufi music. She sings mainly ghazals, Urdu love songs, and her forte, Kafis, a solo genre accompanied by percussion and harmonium, using a repertoire of songs by Sufi poets. Parveen sings in Urdu, Sindhi, Seraiki, Punjabi and Persian, and together with Nusrat Fateh Ali Khan is considered one of the finest Sufi vocalists of the modern era.
---
OTHER PERFORMERS OF THE NIGHT ARE: INDIAN OCEAN; KANGALINI SUFIA; THE MANGANIYARS FROM HAMIRA; NIAMH NI CHARRA