Ghazals at Alliance Francaise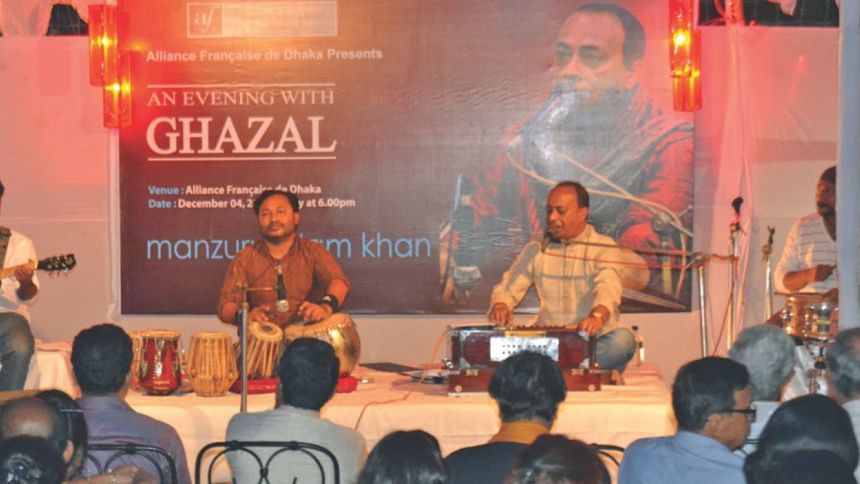 Cultural personality Kamal Lohani launched the Ghazal evening at the Alliance Francaise de Dhaka (AFD) courtyard, on December 4. He said that Manzurul Islam Khan, the featured artiste of the evening, had tried his best to keep alive the tradition of Ghazals in the country. It was because Mehdi Hassan had come to Bangladesh, that Ghazals are so popular, he remarked.
Bruno Plasse, the Director of AFD, said that he has enjoyed Manzur's Ghazals before, as he sang the tunes of Indian artistes like Manna Dey, Kishore Kumar, Mohammed Rafi and Jagjit Singh, and was a true promising Ghazal personality.
He learnt under Ustad Abul Kalam Siddiqui, Ustad Shankar Das, and under Ustad Nurul Islam. He also studied at Chhayanaut. He was inspired by classical nuances of Mehdi Hasan, Ghulam Ali, and also Kazi Nazrul Islam. He is an "A" grade artist of BTV and Bangladesh Betar.
With blue and purple fairy lights, Manzur had the accompaniment of the tabla, harmonium, guitar and keyboard. He wore the conventional beige Sherwani. There was Rehana Jehan to add the commentary.
Manzoor sang songs which Talat Mahmood had made famous, like "Yeh Hawa Yeh Chandni". He sang others by Ghulam Ali, some of which were of Bollywood fame -- like "Badan Se Lagey". There was one which was of Ustad Amanat Ali Khan, who was well-known for his thumris.