Evening of Chamber Music
Russian musicians play in Dhaka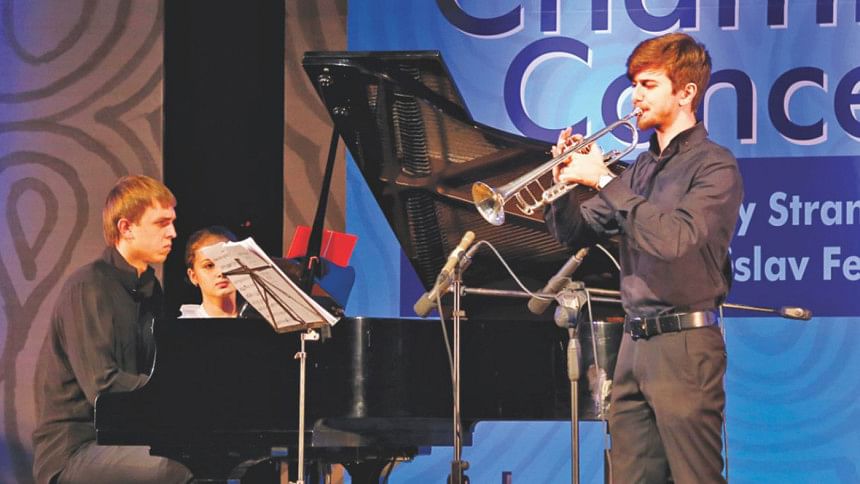 Abul Khair, chairman of Bengal Foundation and Alexander A. Nikolaev, the Russian Ambassador, together opened an evening of Chamber Music on November 10 at the capital's Krishibid Institution Complex Auditorium. Luva Nahid Choudhury, director general of Bengal Foundation, presented the evening's programme, which featured a duo from Saint Petersburg, Russia performing on the piano and trumpet. The event was a joint initiative of Bengal Foundation and the Russian Embassy.
The capacity audience was enthralled by the mellow tinkle of Vladislav Fedorov's piano and the blast of the trumpet by Nikolay Stranatkovskii. Together, the duo presented Hummel, Rimsky-Korsakov, Tchaikovsky, Chopin, Glazunov, Schumann and their original compositions.
Vladislav was born in Saint Petersburg in 1997. He began his musical education at the age of five. He entered Saint Petersburg School of Arts for Children followed up by musical studies at Secondary Special Music School at Rimsky. He studied with Olga Kurnavina at Korsakov, Saint Petersburg state Conservatory. Next he was a student of Professor Aleksander Sandler. Vladislav is an international laureate, winning the Feredric Chopin 1st prize in 2010 (Estonia), Franz List International Competition 2011(Germany) and 3rd prize in the 2012 Young Pianists (Netherlands). He played with an orchestra for the first time at the age of 10. He is well known in France, Germany and Italy. Since 20114 Vladislav has participated in the Saint Petersburg Music House Programme.
Nikolay Stranatkovskii was born in Sochi City in 1992.He studied in Music School No. 19 in Saint Petersburg and continued his studies at Rimsky- Korsakov Music School under Gennady Kuteev.
The hour of concert music was enjoyable, and added a refreshing touch to the mundane weekday evening of Dhaka.