AB's 25 year musical journey
"I dream of a day when Bangla songs will be available in every part of the world"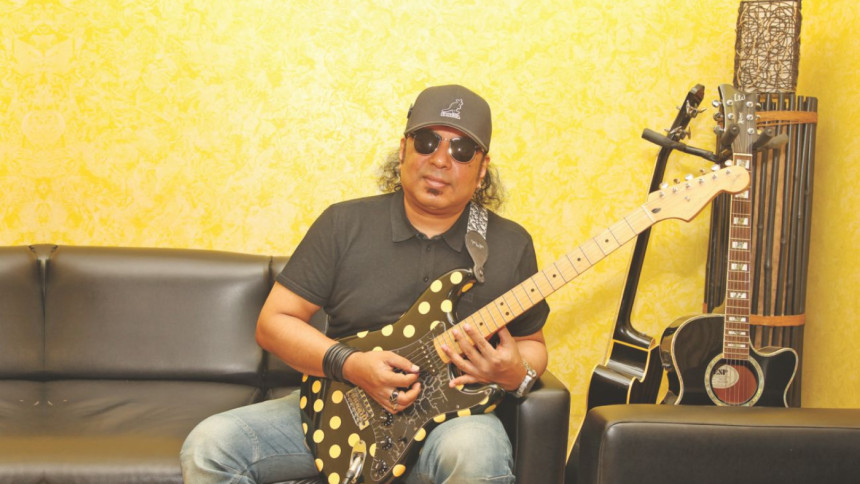 Ayub Bachchu (AB) is one of the most popular names in Bangladeshi band music and the music scene. For more than two decades, he and his band LRB have been entertaining hundreds of thousands of fans in Bangladesh and abroad. This year marks 25 years of the journey of AB and LRB, and they are still tremendously popular among the youths of this generation. Star Arts & Entertainment recently caught up with the rock sensation at his studio AB's Kitchen in the capital's Moghbazar. In a casual conversation, the LRB front-man talked about what was closest to his heart:
"Music is to be regularly practiced and worshipped. The more you practice the better you get, as it needs hard work and devotion. I personally think there's no limit to learning. Every moment I learn something new," said AB.
Asked about his success and what keeps him moving, AB replied, "First of all, I am not sure whether I have succeeded. I don't even want to measure my success. What I know is I am still singing and receiving love from my crazy fans. It usually happens that many singers give up practicing when they achieve success but I practice regularly."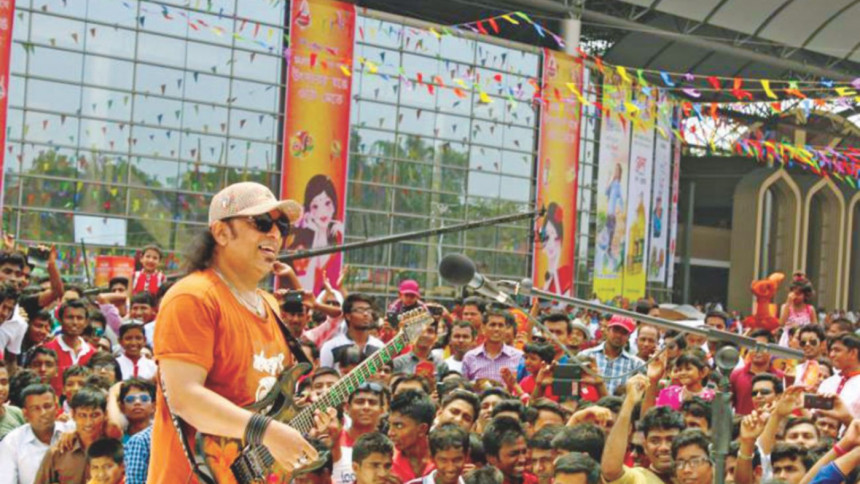 A modest AB went on: "I always feel I am not a winner. Success and achievements don't come so fast. Of course, the respect I get from people means a lot to me. I have a place in people's hearts. They love LRB and there are scores of crazy fans out there. To me it's a blessing. I would call it oxygen which keeps me going." 
AB walked down memory lane to recall the days when LRB began its journey. "The beginning is always difficult, and 24 years ago, things were not the same. We struggled, we broke down at times but we stood firm. I can remember we had to made drums out of pillow covers. But we are grateful to people for their support from the very beginning," he recalled.
About his dreams, AB said, "I dream of a day when Bangla songs will be available in every part of the world. I don't know how long will it take but I believe this will happen. The inaccessibility of Bangla songs from other parts of the world hurts me at times. Recently we did a show in Canada. We saw the excitement of people at our show and their warm welcome -- that's something that tells us about our popularity."    
"To me my creations are like my children. As every child is the dearest to their father, all of my songs are equal to me," revealed AB.
AB termed the day when he performed with his son on the same stage, as a special experience. "It was an emotional moment when I shared the stage with my son. It was one of the most memorable days in my life," said AB.
Asked whether his son will follow the footsteps of his father, AB said, "That's up to him and I will impose no pressure from my end. He will do whatever he likes to do. But I always encourage him to finish his studies first.  Above all, he has to be a good human being--that's my expectation," AB concluded.