Movie Review - Baahubali 2: The Conclusion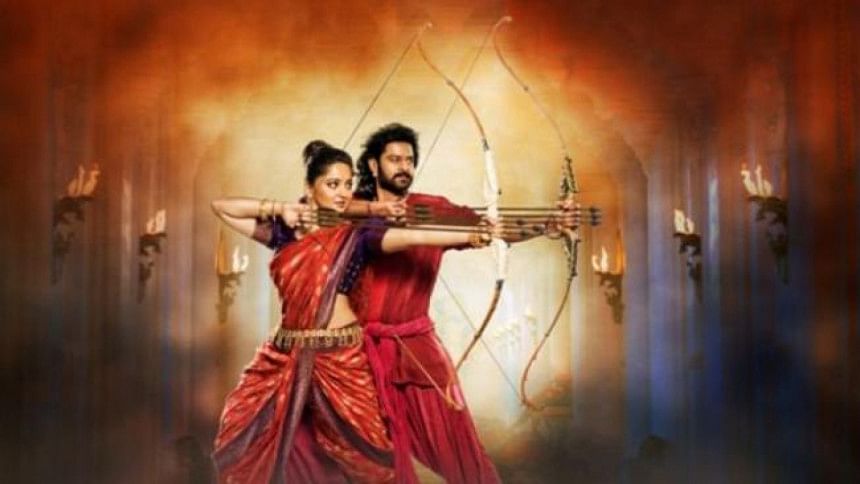 In the 22 months since "Baahubali: The Beginning" hit theatres, the story might have faded from our minds but the spectacle that unfolded on screen remains seared in the memory of viewers. S S Rajamouli makes sure that when we return to his imaginary world, we never stop gasping till the end credits roll.
In "Baahubali 2: The Conclusion", marauding elephants, an invincible but kind-hearted king and his unconditional devotion to his mother all come together in the first five minutes, perfectly setting the stage for the next three hours of the epic.
While Rajamouli does apply the brakes on this juggernaut from time to time, the film has enough speed to propel it towards a high-octane climax, where our hero Mahendra Baahubali (Prabhas) meets his nemesis Bhallaladeva, the evil king who is responsible for his father's death.
"Baahubali 2" takes off where we last left it. Katappa, trusted lieutenant of the Mahishmati kingdom and the subject of a thousand memes, tells the story of Amarendra Baahubali to his son, Mahendra.
Prince Bhallaladeva (Rana Daggubati) is seized with jealousy because his mother, Queen Sivagami (Ramya Krishnan) would rather make his cousin Amarendra her successor. To make matters worse, the princess Bhallaladeva wants as his wife would rather marry Amarendra.
But when Amarendra and princess Devasena (Anushka Shetty) announce their intention to marry, the queen, egged on by her son and husband Bijjaladeva (Nassar), considers the union an act of defiance and turns her against her choice for king.
Rajamouli takes a while to actually get to the conflict, spending almost half of the movie's runtime setting up the romance between the outspoken warrior princess and the smitten prince. But the action never stops. Amarendra eyes Devasena over hunting trips and while they demolish entire armies together. She falls for him after he saves her kingdom from an attack.
Rajamouli and writer K V Vijayendra Prasad (the director's father) keep the story linear and simple, letting the spectacle of rampaging armies, massive kingdoms and fight sequences between the two leading men do the talking.
The VFX, a huge draw in a film like this, might not be up to Hollywood standards, but Rajamouli and his team manage to make this world look imposing and impressive.
In fact, if it wasn't for the special effects, the film would probably go down as campy and often over-the-top where the actors arch their eyebrows at every opportunity and warriors use palm trees as weapons of war.
It is because Rajamouli never lets up in his attempt to deliver a spectacle that has to be enjoyed in theatres that "Baahubali 2: The Conclusion" is a worthy conclusion to this epic series. It may not up the ante from the last film, but it doesn't let up on the pace either. For an Indian film, that is no mean feat.