MERRY MEMORIES OF CHRISTMAS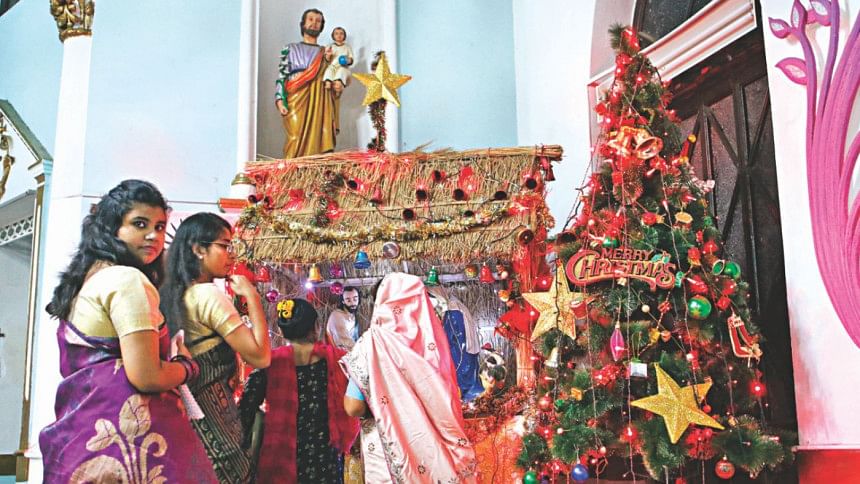 A week before Christmas, bakery shop Coopers has its fairy lights. In Dhanmondi, the places are decked up with blue, white and purple fairy lights. I am forced to put on my 'dancing shoes and dance away the blues'.
I remember in Melbourne, Australia, how my sister in- law had her cutlets ready by the afternoon. My brother in-law and his wife had theirs too. I would bring in the sweet dish for potluck. My brothers-in-law would bring in their sweet dishes for good measure. And so the Christmas repast proceeded. There would be roast and slicing of the bird for all to taste. The veggies were not to be forgotten … and the eggnog for fine taste. For the girls there where fruit drinks, with light alcohol.  It was as if from Dickens's Christmas Carols, "Christmas Past and Present" had walked in. We would all sit to have the repast for what it was worth, and open our presents -- for what they were worth. There was powder and patch for me, just as there were hand bags for my sisters in law and talcum powder and shaving lotion for the boys.  
As for merrymaking, there were discussions of all sorts. The children would talk of their books and their grandfather would correct their American English. The girls would speak about the girl's coming marriage to the Italian boy. And so the afternoon proceeded with gaiety and laughter till the late evening, when it was time to go to sleep.  
We would celebrate Christmas and Easter in my in-law's house without fail. There would always be a repast, with the entire family being invited. Each of the women would bring a dish and so the fest was shared.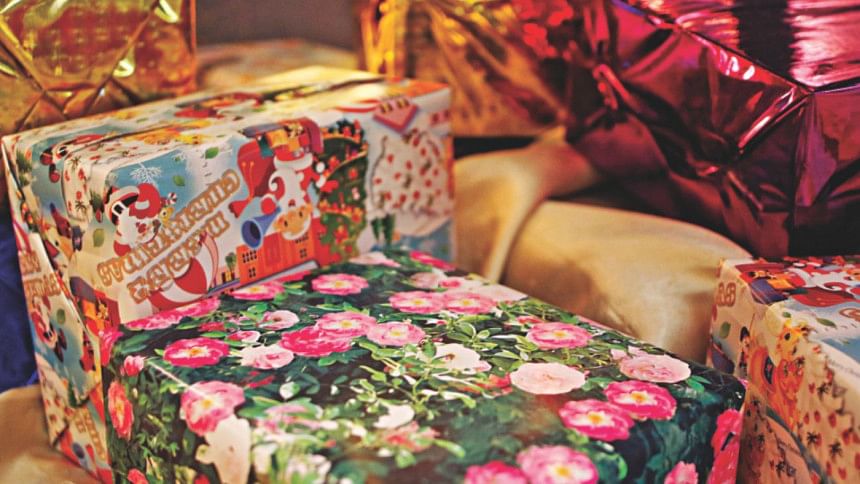 In Colombo, Sri Lanka, there was making of ribbon sandwiches, and other sweets and savouries to taste, with dancing and singing to cheer up the soul. There were smile and picture-clicking to accompany.
Here in Jahanara Gardens, Dhaka, we would similarly share our goodies, fun and laughter. There was also much talk. I had Christmases here with Patricia D'Cruz and her family, with cakes and fruit drinks, meat and potatoes for meal. There were songs to regale, and some dancing to take part in, if the mood took one.
My sisters-in-law and I would go into the city on weekends and to St Francis Church, where the girls would light candles and prey in unison. It reminded me of the prayers at East West Centre, on Christmas, and prayers in churches in Karachi, Pakistan where I stayed and shared my good times with my friends. Here we have Christmas carols with friends. We are given sheets of the song to help us along. We would then share sweets.
I had always gone for the Christmas feast with friends here in Dhaka in the past. We would go to the Shereton or the Pan Pacific Sonargaon, and do some shopping of greeting cards, as well. We would share coffee and croissants and take snaps with Santa Claus. A car would be lent to us by the elder business brother, Asaduzzaman.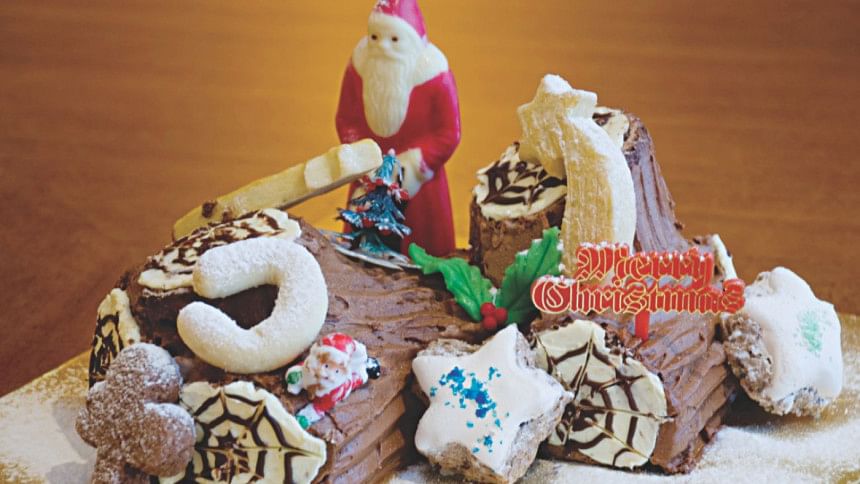 One would think that the artist Salahuddin's wife's comment at Alliance Franciase de Dhaka was true. People were afraid to come out; they stayed indoors when they could. There were fewer people at Pan Pacific Sonargaon this time. The boxes of Christmas-wrapped goodies at the entrance to the Christmas celebrations were limited. People were there snapping away and buying away, but there wasn't the ardour or enthusiasm of the past year. Something was just missing. Yes, people had their red Christmas caps. But that was it. Father Christmas visited the place of entertainment. But there was not the usual hustle and bustle.
On TV, there appeared to be more frolic and fun for children and adult viewers. There were strains of "Jingle Bells", decorated Christmas trees, and Father Christmas in his full regale, in his red coat, cap and trousers, as he played with the kids and gave them their gifts of cakes and biscuits. There were familiar songs of childhood days from siblings, as they took their turn of luck with the guessing game. The cooking of the Christmas meal was rich with nuts and other goodies. Both adults and young ones were spirited and happy in the Christmas season.