'Whenever I decide to retire, I will announce it myself'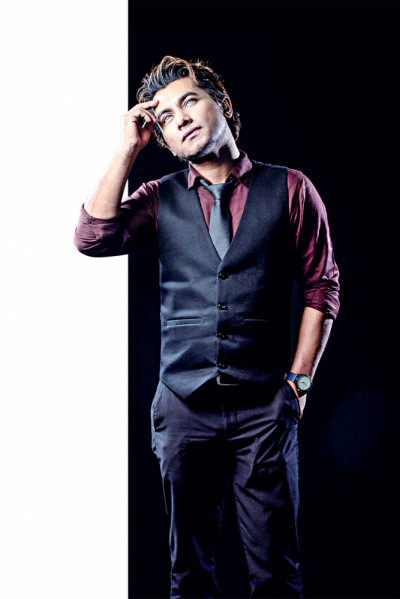 Soon after the Dipankar Dipon directorial "Dhaka Attack" was released, Taskeen Rahman, became a sensation amongst audiences, for his role as an antagonist. The actor is currently in Australia, due to his treatment. His upcoming film, the Sunny Sanwar and Faisal Ahmed directorial "Mission Extreme" will hit theatres on December 3. He will also appear in "Operation Sundarban", "Casino", "Shaan", and "Girgiti". We caught up with the actor to know more about his work.
How was your experience of working on "Mission Extreme''?
Working on "Mission Extreme" was great. We worked very hard to put this film together. I can only hope that viewers will enjoy it just as much as we enjoyed making it.
When we started filming in 2019, the production team spent an entire day in a workshop, where we got to learn about each character and the film itself.
As an actor, I thought that was really helpful as we had a better understanding of what is expected from us. Unlike "Dhaka Attack", my character is not very loud in this film; it is much more subtle. 
Will you be in "Mission Extreme 2"?
I guess I will leave it to the viewers to watch part 1, and figure out whether I am in part 2 or not!
Wikipedia says you are a 'former' Bangladeshi actor! What is your reaction to that?
I wasn't aware of this!  Whenever I decide to retire, I will announce it myself. For now, that information is inaccurate.
When are you planning to come back to Bangladesh?
I wish I could come back to Bangladesh tomorrow, unfortunately that's not the case. I've got a few things lined up at the moment that, including my treatment. However, I hope to come back sooner rather than later.
You have played an antagonist in all of your films, except 'Boyfriend'.  Do you see yourself as the next big 'villain' of the industry?
I have been accepted as an antagonist partly because of my character in "Dhaka Attack". However, I don't think I will keep on playing villainous roles. Some of the characters I took up recently are not entirely 'bad guy' roles. My preference is to keep surprising myself, as I experiment with different characters. My worst nightmare is being typecast. As long as I am in the industry, I do not want to be in that position.
Many don't know that you participated in 'Notun Kuri' during the 90s. Since you came back after a break and are now working in full swing, do people still treat you like a newcomer?
Well, interestingly, a renowned director once asked me how my Bangla is! I thought it was funny because I have only done Bangla films, and have been in the media since childhood. Nonetheless, I am elated with all the appreciation from people.
Do you think the craze for you is still the same, since it started from your debut film?
People's interest in me after my debut film was definitely pleasant, but it is not something I am constantly bothered about. I am glad that people liked the character I portrayed, but at the end of the day, what matters most is that I enjoy my work.