"I am particularly fond of action-thrillers" - Anisur Rahman Milon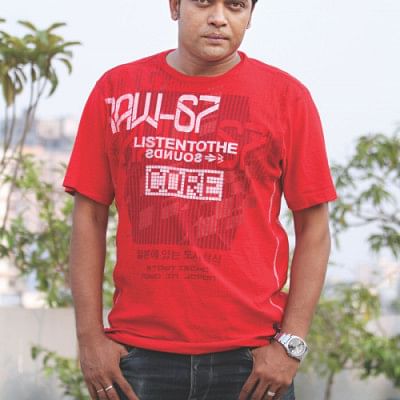 With strong origins in theatre, Anisur Rahman Milon is a popular small screen actor who has also earned high praise in films. The actor currently has his hands full with both small and big screen ventures, but has recently returned from much needed respite in Australia. In a recent conversation with The Daily Star, the acclaimed actor speaks about his life and interests beyond the sets.
How do you normally spend your weekends?
ARM: Working days mean long, arduous hours where we don't have a choice regarding any aspect of our routine. On my day off I look forward to long, uninterrupted hours of sleep, followed by spending time with the family. During filming, we often have to resort to eating whatever is made available to us (usually unappetising food), and so I often make requests at home during weekends for a particular dish that I have been craving, whether it's fish, or a bhorta. After that what unfolds is the regularities of any normal weekend – meeting friends family, catching up on unread scripts, running various errands.
What genre of movies do you enjoy?
ARM: I am particularly fond of action-thrillers – oftentimes on my days off I will settle down to watch a movie after lunch.
What are you currently working on?
ARM: I am currently involved in a few running serials, such as "Jolrong", "Oloshpur", "Shunnota", to name a few. I am busy dubbing a number of films, which includes "Chol Jai", "Alta Banu", "Shadakalo Prem", "Shopnobari". I have signed on to work on a new film titled "Faltu", directed by Wajed Ali Shumon. We will begin filming as soon as a schedule is set.
What are your favourite books?
ARM: I loved "Dighir Joley Kaar Chhaya Go" by Humayun Ahmed and to this day I reread books by him. I also hold the writings of Aroj Ali Matubbar close to my heart and have a fondness for Zafar Iqbal's short stories.
Out of all the ventures you have worked in, which has special significance to you?
ARM: I can only name the ventures that have helped propel me forward in show business. The tele-film "Tui Ta" has helped give me my first footing, the drama series "Ronger Manush" helped me go even further, and the same goes for the series "Bela Bhoomi". I have started working in film from 2012, among which "Dehorokkhi", "Poramon", "Onek Shadher Moyna", "Bhalobashar Rong", "Rajneeti" has earned me good reviews.
Is there a personal fact about you could share, that your fans could never guess?
ARM: I love singing, and often get invited to perform at events by friends and family. I love traveling too, and just returned from Australia a week ago.