Watching 'Furious 7' without Walker upsets Vin Diesel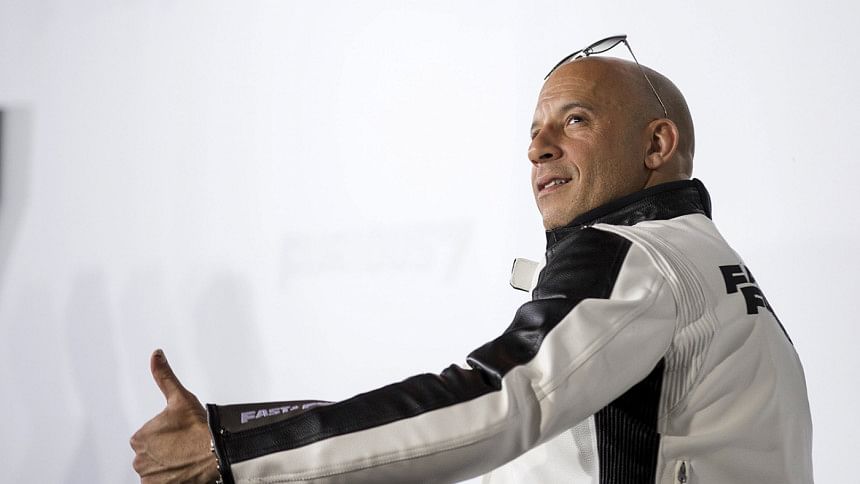 Actor Vin Diesel admitted he struggles to watch the "Fast and Furious" franchise following his co-star Paul Walker's death.
Paul was killed in a car crash on November 2013 when the Porsche he was travelling in as a passenger hit a tree and caught fire.
Diesel admitted he can't help feeling sad when he watches the films and sees Walker.
Telly host Jimmy Kimmell played a clip of the pair in "Furious 7" as Diesel began his interview on Tuesday night.
"When you watch the movie do you feel sad? You can't help about think of his untimely demise," Jimmy says to the actor, who nods his head and says: "Yeah."
Diesel and Walker starred in all seven films of the franchise together, and formed a close friendship.
The star went on to talk about his new movie.
"We dropped cars out of planes. It was crazy, We had guys that had to drop out of parachutes to film some scenes. And filming cars going from building to building in Abu Dhabi was just amazing," Diesel said.
The 47-year-old, who stars in the latest instalment in the action film franchise, thinks the movie is worthy of recognition at the Academy Awards in 2016.
"Universal is going to have the biggest movie in history with this movie. It will probably win best picture at the Oscars, unless the Oscars don't want to be relevant ever." Diesel said in an interview.
The actor claimed that no other movie made this year will match the power of "Furious 7", which also stars Dwayne Johnson, Michelle Rodriguez and late Paul Walker.