First "Guardians Of The Galaxy 2" trailer is out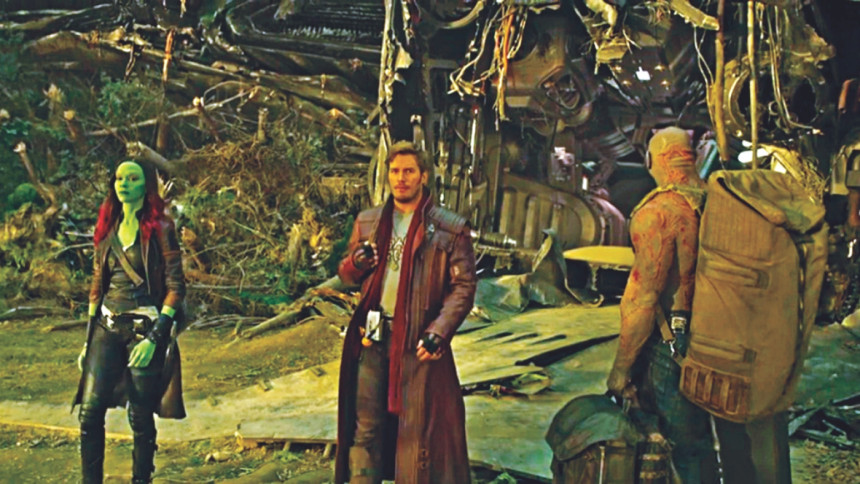 Marvel is starting to drop its "Guardians of the Galaxy Vol. 2" footage at a fast and furious clip. Minutes after a Russian version of the first teaser trailer for the film landed, a cleaner US version landed on the Web.
James Gunn admits that a full trailer for his wildly anticipated Marvel superhero film is still to come, but he put together a montage of quick shots of new footage of the Guardians, with just one dialogue between Drax (Dave Bautista) and Peter Quill/Star-Lord (Chris Pratt). It's a little out of context, though it's clear that the romantic relationship between Star-Lord and Gamora (Zoe Saldana) will expand in this sequel, as Quill's talking about finding someone who "dances" like he does.
Outside of that dialogue, there are rapid-fire shots of the different members of Peter Quill's team, including Gamora brandishing a sword, and concluding with the first look at Rocket Racoon (Bradley Cooper) and Baby Groot (Vin Diesel) in action. The ever-familiar "Hooked On A Feeling" soundtrack is at the background.
Marvel earlier showed off two pieces of footage at the San Diego Comic-Con: the first was an extended prison break scene with Yondu (Michael Rooker), Rocket and Baby Groot. That sequence is hinted at here, when Yondu and Rocket are walking across a platform and bodies are falling out of the sky around them.
The second, however, was essentially a long trailer, set to Fleetwood Mac's "The Chain" that really set the tone and the mood for the film.
Either way, Marvel is prepping "Guardians of the Galaxy Vol. 2" for a May 5, 2017 release date.