When printmaking delights viewers
Exhibition at Kalakendra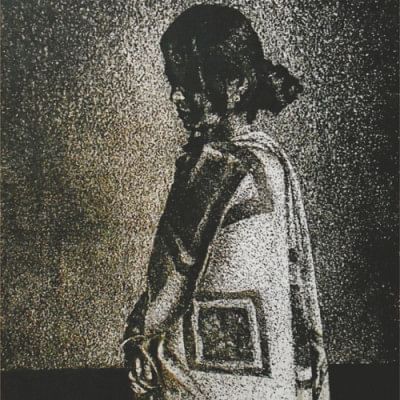 At Kalakendra, Iqbal Road, Mohammadpur, Farzana Rahman Boby's work is imaginative while that of Palash Baran Biswas is realistic. The group exhibition opened on October 13 and will continue till November 8. The curators are Wakilur Rahman and Kehkasha Sabah. The judges include eminent artist Monirul Islam.
Bobby's work, which includes abstraction and reality, uses line-etching, aquatint, done with resin dust. Powder is put on the plate and it is then grated and absorbed away by acid. There is woodcut in which the wood is cut with tools in various shapes.
Bobby has depicted landscape, nature, forest and garden in her compositions. There are also flowers, birds, rocks, trees and rain in the prints.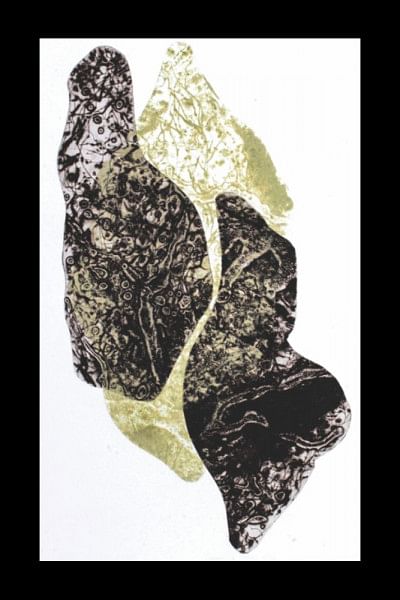 Palash's work is realistic. It consists of line drawing or etching, aquatint and woodcut. "Sometimes these impressions give pleasure and, at times, they give pain. They express the necessities of society and the demands of our time," says Palash.
 "The move of calling the Kibria Art Centre, as Kalakendra initially took me by surprise. It has good space for working. Today graphic field is complex and complicated to realise the work," said Monirul Islam at the event.
"There prevails a crisis of art material which is available in the western world. These are: nitric acid, petrol (gasoline), and prepared burnish and a lot of material that graphic art print requires like pure turpentine," added Monir.
"For the student and those working before it is very different from working in your own house as some of the materials are toxic. You need an open and well-ventilated space. This workshop made it easier to realise their work as they have a printing press and other necessary equipment. The graphic art media is to socialise art and also for easy international communication," concluded Monir.