The Glory that was of Old Dhaka
Kazi Salahuddin Ahmed's exhibition at AFD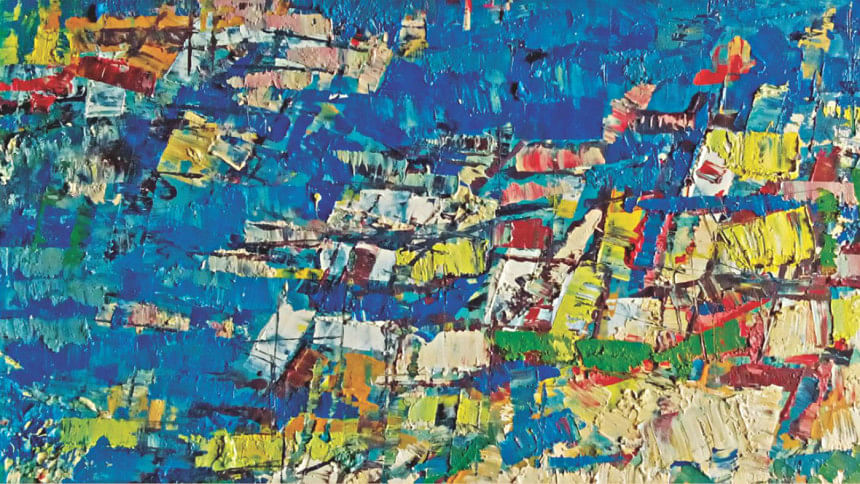 "It is essential that one should preserve the relics of Old Dhaka," says Kazi Salahuddin Ahmed. "This is so that the next generation realises the beauty of Rankin Street, and places like Tipu Sultan Road, Gopi Bagh, Sadar Ghat and Armenian Church. They should also know about Dhaka's colonial and Mughal past. Certain monuments should be preserved and this is also good for our tourism industry. I stay in Old Dhaka myself near the river Buriganga, in Sambazar, and have doing paintings on it for nearly 25 years."
Ahmed's exhibition titled "Organic City" opened on October 13 at Alliance Francaise. The face of a man hovering about can be conjectured. The paintings are part of his recollection or dream about the place he has grown up in. Sand, pigment and acrylic are the media he has used in his works.
There are broken images of "Dholaikhal" where parts of old cars and other machinery are available.
An old structure is falling apart in the next miniature entrée. Poor people are putting their banners. This is from the artist's memory. The green is used for hope that in future this area will see some development.  The white is for relief. It is apparent that some trees are still alive and are struggling to live. There is the water from Buriganga. The water today is not blue but the artist, from his memory keeps it so.
His landscapes in the past were more colourful. However, the gold and silver brighten these miniatures.