Solo exhibition 'Ka'-Shommondhiyo [Connected Speech]' underway at AFD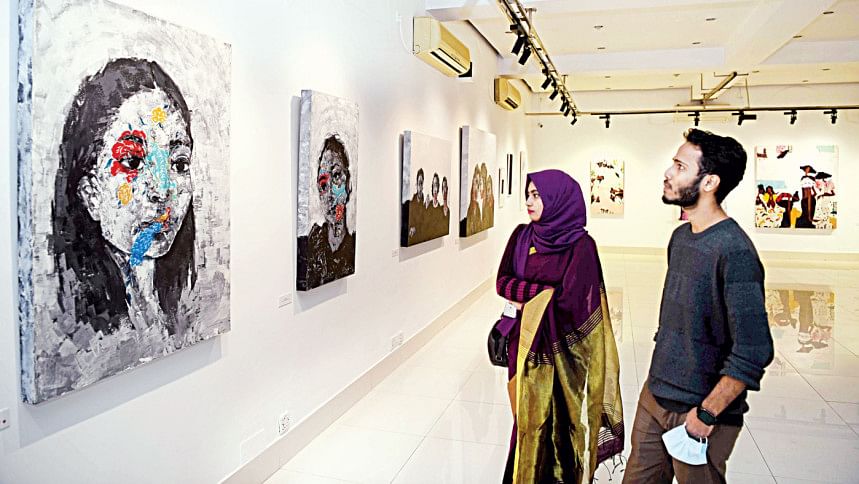 The solo art exhibition, "Ka'-Shommondhiyo [Connected Speech]" by Azizee Fawmi Khan, is underway at La Galerie, Alliance Française de Dhaka (AFD).
Jeremy Opritesco, Chargé d'Affaires a.i., of the European Union Bangladesh attended the opening ceremony as the chief guest.
Azizee is a visual artist based in Dhaka. After completing her MFA from the Department of Drawing and Painting, Faculty of Fine Art, University of Dhaka in 2017, she participated in both national and international exhibitions and artist residency programmes, including the 18th Asian Art Biennale, 23rd National Art Exhibition, 20th and 21st Young Artists Exhibition at Bangladesh Shilpakala Academy, Dhaka.
She also collaborated with contemporary artists and art associations such as the British Council, Britto Arts Trust, Brihatta Art Foundation, Platform Art Space, Dhaka, Bangladesh and Rebel Creatives, Birmingham, UK. Visitors will see her journey of the past five years in her first solo exhibition. Azizee is strongly motivated by her childhood and the lives of her predecessors, the heritage of the land she inhabits and the familiar customs that are passed on from one generation to another.
Even though the present is radically different from the past that she longs for, this exhibition is her way of reminiscing about all that now perhaps only exists inside the boundaries of her mind.
Azizee's style merges folk motifs, and local contexts with a personal take on the impressionistic styles as her canvases portray unblended strokes to create the illusion of memory. Along with traditional practices, she also works with old photographs and historical notions.
Along with a painting installation and a couple of drawing projects, 15 acrylic paintings are on exhibit at ""Ka'-Shommondhiyo [Connected Speech]", which will be open to all till December 31, from 3 pm to 9 pm.